HMC Community Leaders Recognized
April 18, 2023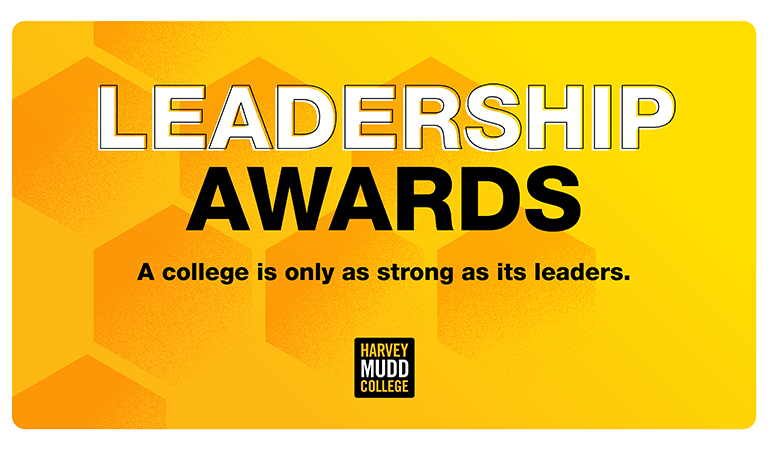 For the last 11 years, Harvey Mudd College has recognized outstanding examples of leadership during its annual Leadership Awards event, coordinated by the Division of Student Affairs. This year, community members gathered in the Platt Living Room for a lunchtime ceremony to celebrate students, faculty and staff for their contributions on campus and beyond.
A selection committee of students, staff and faculty reviewed nominations from the campus community and made selections for Outstanding Mudder, Outstanding Emerging Leader, Outstanding Student Organization, Dean Sundberg Prize, Dorman Student Altruism Prize, Outstanding Faculty and Staff members and Leadership Program and Community Service. In his opening remarks, Vice President for Academic Affairs and R. Michael Shanahan Dean of the Faculty Professor Tom Donnelly said, "We value leadership of all kinds on our campus and in our larger community, and it is important to take time to join together and recognize these efforts."
Outstanding Mudder Award
Recognizes students who contribute to the community and demonstrate creativity, leadership, teamwork, ethics, inclusion, community engagement, wellness and communication in curricular and co-curricular endeavors.
Audrey Cole '24
A "do-it-all Mudder," Cole is a physics/German studies double major, a makerspace steward and a CS5 grutor. She holds leadership positions for the Prison Education Project (PEP), Women in Physics and the Sewing and Fashion Design Club. Comments from her nomination include, "Audrey's work in reviving PEP at Mudd after the return from remote learning has kept the club's mission of providing educational access to incarcerated students going. As one of the co-founders and presidents of the Sewing and Fashion Design Club, Audrey helps lead the club in not only hosting workshops to teach students new skills, but also in encouraging sustainable fashion by modeling how to repair clothing items."
Outstanding Emerging Leader Award
The award for Outstanding Emerging Leader recognizes a first-year student or sophomore who exhibits great potential as a campus and/or community leader. Two students were selected for the award this year.
Mia Bryan '26
Bryan has served as a Summer Institute mentor, actively participating in organizing events and building connections with her cohort. A nominator wrote, "As an intern in the Student Affairs office, Mia has demonstrated initiative and thoroughness in her work while being a friendly and welcoming presence. Through her involvement in various OID events and leadership retreat, Mia has showcased her commitment to making Mudd a place where students feel supported and encouraged."
Serena Mao '25
Mao has taken on leadership roles in various fields, including serving as wellness director and being an active member of the Society of Women Engineers and Indian food club. A nominator wrote, "Her drive to positively impact the Mudd community is evident through her various initiatives, such as posting positive cheer from professors during exam week, sending emails on mental health subsidies and discussing impactful ways to use the vending machines on campus. Serena actively reaches out to connect with and support others, even outside of her major, classes and dorm."
Outstanding Student Organization
Given to a recognized student organization that makes a positive impact on campus or in the wider community and demonstrates integrity, leadership and teamwork.
Mudders Making a Difference (MMAD)
Mudders Making a Difference works with The Office of Community Engagement to provide Harvey Mudd students an opportunity to volunteer and participate in socially conscious activities. MMAD also serves as a structure by which students may pursue independent, volunteer or community­-oriented projects. One nominator noted, "MMAD focuses on so many different social issues, embodying Mudd's value of students having a clear understanding of the impact their work has on society. Their leaders are extremely active and dedicated, keeping the campus connected to local and global communities through emails, programs and different drives they hold. MMAD has shown extraordinary leadership by bringing important issues to the campus's attention and showing that students can really have an impact on issues they care about."
Dean Sundberg Prize
Established by Dana Seaton '06, and with support from Warren Katzenstein '04 and Nate Yoder '06, the Dean Chris Sundberg Prize ($500) recognizes a rising junior who demonstrates exceptional leadership and a positive impact on the College community.
Lea Twicken '25
A multidisciplinary STEM major in mathematical and computational biology, Twicken has been an important voice on the Honor Board and finds many ways to support her fellow students. As a CS5 grutor, she created a welcoming atmosphere for first years. A nominator commented, "She has served on both the Student Covid advisory board and the DSA / ASHMC working group, has taken on The Muddraker's chief of photography leadership role, volunteers for Mudders Making a Difference, always has boba or ice cream for her friends after a long day and crochets hats for the Office of Community Engagement's Warm Up America! drive. Lea is an integral part of her dorm community and will serve as a mentor there next year."
Dorman Student Altruism Prize
Established by the Dorman Family Foundation, the $250 award recognizes a graduating senior who is selected by their peers as the one who has done the most for their fellow students.
Ruby Foxall '23
A double major in physics and public policy, Foxall is a member of HMC student government and active in the physics department community and dorm life. From a nominator, "Ruby has mentored dozens of students, helping make the Mudd environment more inclusive. They enable student organizations to succeed through their work with ASHMC, they contribute to the LGBTQ+ community through PRISM, they single-handedly run Case's trivia team, they are a valuable writing center consultant and they bring together the physics community through their work in Women in Physics."
Outstanding Faculty Member
Awarded to a faculty member who has gone above and beyond their job role to serve as a mentor for students and/or student organizations and embody Mudd values, such as collaboration and care for the campus community.
Jae Hur, associate professor of biology
Hur specializes in molecular and cellular biology with an emphasis on aging and longevity determination. His research aims to elucidate the fundamental genetic and physiological pathways that govern organismal lifespan. A nominator wrote, "Prof. Hur embodies Harvey Mudd's value to develop scientists for socially impactful careers like no one else. His research focuses on health, and while he encourages students to conduct research in whatever field they're most passionate about, he makes an excellent case for genetics research, and socially important work. He's an incredible and dedicated mentor who is very patient and caring, spending as much time as it takes for students to grasp the material. He is also an excellent advisor, truly taking the time to understand what students are trying to accomplish, and then guiding them to the most relevant opportunities and ideas."
Outstanding Staff Member
Recognizes a staff member for their positive contributions to the campus, their leadership and willingness to make a difference in the lives of students. The committee named two recipients this year.
Kim Neal, makerspace manager
A nominator wrote, "Kim raises the bar for establishing a welcoming, open and enriching environment for members of the HMC and 7C community. Her engagement with the student body shows she holds them in high regard, and she has been an immediate asset, partner and advocate to the College. Kim's outreach sets a high bar and amazing example of how we can work outside of our department, our college and our industry to nurture creativity. Extraordinary leaders know their audience, know their boundaries, and know their resources. Kim has a grasp on all three and empowers her peers to identify where they are best able to lead, too."
Larry Vasquez, Facilities and Maintenance building attendant
A nominator wrote, "Larry is an extremely hard worker and excellent team player. He is always super helpful to other staff and students alike, and there is never a task too small or too big for him. He is someone that other employees on his team look to for guidance with his wealth of knowledge. He takes extreme pride in his job and in his teammates and is a true leader in every sense of the word."
Leadership Program and Community Service
During the Leadership Awards, students were also recognized for participation in the College's student leadership program and for their involvement in community service.
IMPACT Leadership Program
Through experiential learning, the IMPACT Leadership Program seeks to develop skills in participants that build inclusive communities, develop their leadership potential and contribute to their holistic development. These students earned leadership certificates by participating in a cohort-based program focused on developing leadership skills aligned with values, strengths and ethics, with an emphasis on individual, group and societal values. Certificates went to Amelia Acker '26, Ian McGuire '26, Jee-In Kwon '25 and Rui Zhang '26.
Shirlynn Spacapan Memorial Scholarship
Established by family and friends in memory of HMC humanities professor Shirlynn Spacapan, the scholarship recognizes students for their community service.
Occam Kelly-Graves '23 has worked as a tutor for Uncommon Good to help middle and high school students better understand the concepts they are learning. Most of his tutoring has been in mathematics. Last summer he worked at the Science for Life Laboratory in Stockholm, Sweden, looking at existing drugs to determine which ones could be repurposed to treat lung adenocarcinoma.
During her time at Mudd, Ruby Peterman '25 has worked with different tutoring groups, including with the Claremont Afterschool Program, which serves kindergarten through elementary school students who are at academic risk. She has also worked with local high school students in HMC's Upward Bound program. For the past couple years, she has worked at a summer camp in Maine, caring for children 7–17 years old through programming and supporting the nursing staff. She has also created lesson plans for working with kids in outdoor educational environments.