Alanis Honored with NASPA Award for Excellence
January 25, 2023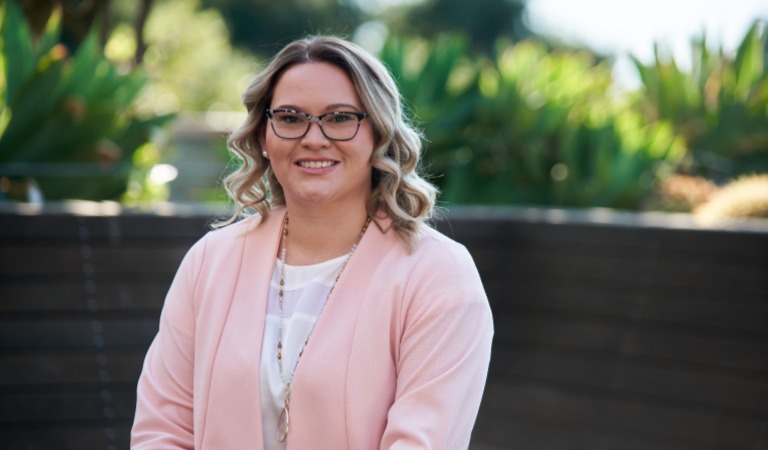 Jennifer Alanis, assistant vice president for student affairs and Title IX coordinator, was presented with the Doris Michiko Ching Award for Excellence as a Student Affairs Professional for her outstanding work at Harvey Mudd College.
"I am so honored to have been selected for this because this is my passion," Alanis says. The award is reserved for those who have outstanding commitment to the student affairs profession, develop programs that address the needs of students and create campus environments that promote student learning and development.
"To have my peers, colleagues andsome of my former students, submit me for this award was really grounding," Alanis says. "Growing up, there weren't a lot of people who spoke like me, who looked like me, who had similar experiences as me so it's my drive to always be my authentic self when I'm doing my work because I want the students to be able to see that and feel like they can achieve their goals, too." As a first-generation Mexican American, Alanis understands how continuing to create an inclusive and equitable campus for students, especially those who come from historically excluded communities, helps them succeed.
At Harvey Mudd, Alanis has helped create shared learning experiences, equitable policies and collaborative relationships with the goal of promoting diverse dialogue and providing educational opportunities to students. "We cannot accomplish what we're doing for students if we do not have those collaborative relationships and diverse dialogue," Alanis says. "For me, it's really important to be able to look at policy, procedures and programming through an equity-minded lens because our end goal is to make sure that our students make it to the finish line and secure those positions to move them up to their next step." HMC's Division of Student Affairs is responsible for residential life, student activities, career services, health and wellness, institutional diversity and community engagement. Alanis will be honored at the 2023 NASPA Annual Conference in April. "By receiving this award, it shows me that I'm doing what I was meant to do," says Alanis.