Making Workshops at the Makerspace
December 9, 2022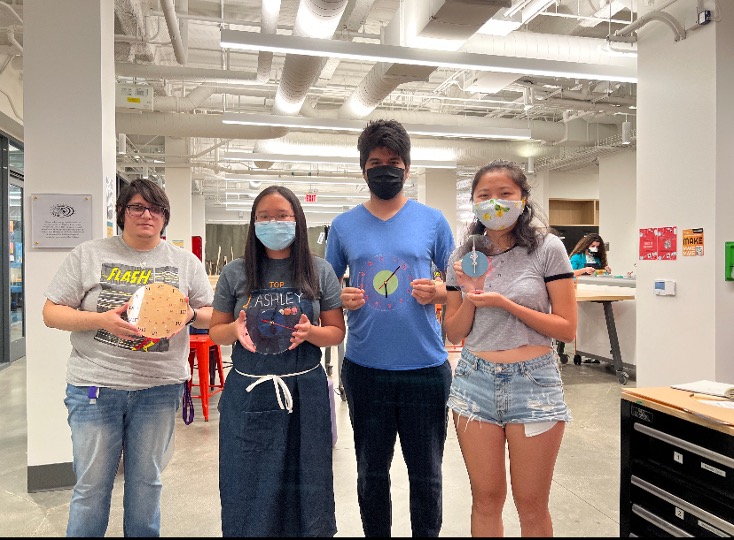 During the fall semester, HMC Makerspace stewards developed and held a total of 25 different workshops for other students in addition to regular equipment training sessions. Each workshop averaged about four participants.
Ashley Cheung '23 held the first workshop, teaching students how use the full-spectrum laser cutter to make acrylic clocks (shown in photo).
Holly Chen '24 held a workshop on making daisy chain rings using seed beads. She says, "It was cool being able to share the space with other students and get to know them while they were learning how to make their project." Alexia Ortiz CMC '25 taught the basics of crocheting in her workshop. "It was nice to see someone excited to learn something new," she says.
Additional topics covered in makerspace workshops this semester included making a tote bag, repairing a sewing machine, storytelling through zines, knitting and making leather coasters. Head makerspace steward Emma Sar SCR '23 vetted the workshop ideas and helped the stewards plan their events. With preparation and organization, the workshops ran smoothly.
Makerspace Manager Kim Neal says, "Everyone is very proud of the hard work and dedication the stewards put forth to make our makerspace a welcoming place for 5Cs students to learn how to make things."
People with HMC credentials can view a schedule of future and past makerspace workshops can be found on the makerspace website, developed by head steward Ethan Vazquez '25.