Karl Haushalter Appointed to Leadership Role in International STEM Reform Network
October 5, 2022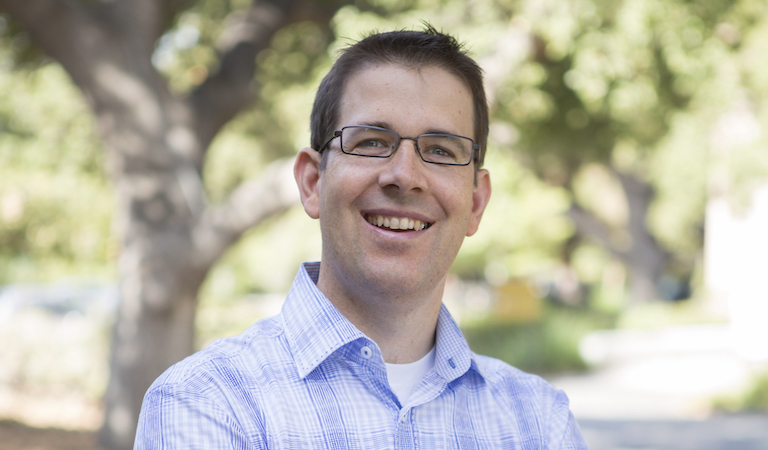 Karl Haushalter, chair of the Department of Chemistry and professor of chemistry and biology at Harvey Mudd College, has been named a SENCER Ambassador in recognition of his work advancing civically engaged STEM learning and research. SENCER, founded in 2001, is an international STEM reform network offering professional development, research and assessment tools for interdisciplinary curricular innovation advancing undergraduate science.
SENCER is the signature project of the National Center for Science and Civic Engagement, a national nonprofit organization that supports a community of teachers and learners in all sectors of STEM education (K–12, undergraduate, informal and graduate). Through professional development institutes, topical symposia, materials, workshops and mentoring activities, the organization helps educators inside and outside the classroom improve their educational practice by connecting STEM learning to real-world issues of civic importance. Its aim is to empower all learners by showing them that their knowledge matters, and what they learn today can help solve some of the biggest problems of tomorrow.
SENCER Ambassadors constitute the core leadership body of this national network of over 5,000 participants and they serve as advocates for civically engaged science in their communities and institutions, at national conferences and professional meetings. They have committed to advancing SENCER's inclusive and evidence-based curricular strategies in their institutions and professional networks, and they use their expertise to support the national organization through workshops, symposia, conferences and mentoring.
Haushalter is active in community efforts to combat the stigma associated with HIV-AIDS and support those living with HIV-AIDS through education and empowerment. The HIV-AIDS: Science, Society, and Service class taught by Prof. Haushalter is an integrative experience, service-learning course that addresses both the science of HIV and the ways that the HIV epidemic has impacted communities. He also researches DNA repair processes, which provides an entry point into understanding the molecular mechanisms of carcinogenesis, aging and evolution. Students in the Haushalter lab utilize biochemical and genetic approaches to study enzymes in the homologous recombination repair pathway and the base excision repair pathway.