Harvey Mudd Upward Bound Grant Renewed Through 2027
July 6, 2022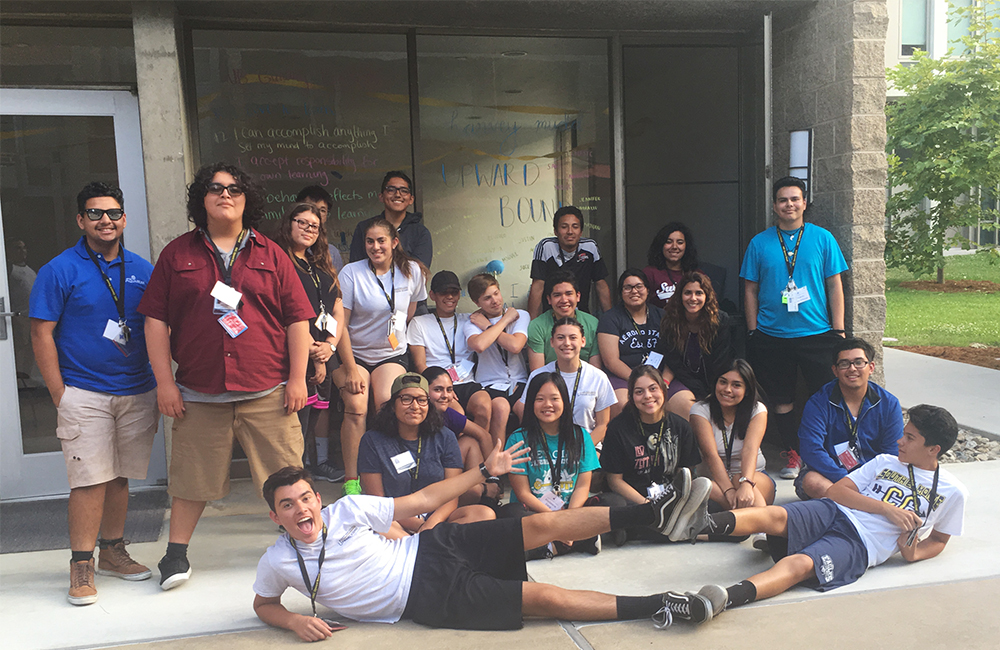 Now that the Harvey Mudd College Upward Bound program has been funded for the next five years, program Director Angie Covarrubias Aguilar is excited for what is ahead.
For more than 50 years, HMC's Upward Bound program has helped first-generation, low-income high school students develop skills for college success. Funded by the Department of Education, the program began in 1968 at the Claremont University Center and was moved to Harvey Mudd in 1972 by then president Joseph Platt.
Upward Bound means a lot to Covarrubias Aguilar, who is a 1996 graduate of the program. She says, "As a former student in the program, I feel a sense of responsibility to continue and expand the opportunities that our Upward Bound program provides to our students. My team and I know the positive impact it has had on the communities that we serve and our program alumni. We want to be able to continue the work that is so needed in our community."
With funding secured, Covarrubias Aguilar says she and her team are focusing on rebuilding and strengthening Upward Bound, available for free to high school students in five target high schools in the East Gabriel Valley.
The structure of the program has changed some due to the pandemic. During summer 2022, 58 students, ranging from sophomores to seniors in high school, commute to HMC Monday through Friday. All students are required to take two classes a day. After class, the sophomores participate in makerspace projects, juniors have three hours of a virtual internship with the Scripps Research Institute, and seniors have a four-hour virtual internship with the Library of Congress. Two of the seniors in the program are doing research with Harvey Mudd biology professors Danae Schulz and Dan Stoebel.
The Upward Bound program also includes activities during the school year. Three Saturdays a month, September through April, students are transported to the HMC campus to meet with an academic tutor (a Claremont College undergrad student) and to participate in a college planning session. During weekly study hall, the tutors are transported to local high schools to offer an additional two hours of academic tutoring. Also, Covarrubias Aguilar and her staff plan various enrichment activities, including college tours, plays and museum visits.
Upward Bound benefits both students and their families. Students develop their academic skills while both they and their families are guided through the college application process. "We do this in a number of ways," Covarrubias Aguilar says, "from tutoring to individual advising, summer programs and internships, to Saturday programs. At the end of the students' participation, they leave feeling better prepared, motivated and confident in their academic abilities."
Covarrubias Aguilar is excited to continue seeing low-income, first-generation students attend college. Historically, more than 90 percent of HMC's Upward Bound students have enrolled in postsecondary institutions after graduating from high school.