Harvey Mudd Engineers Help Company and Earn First Place for Technical Paper
March 11, 2022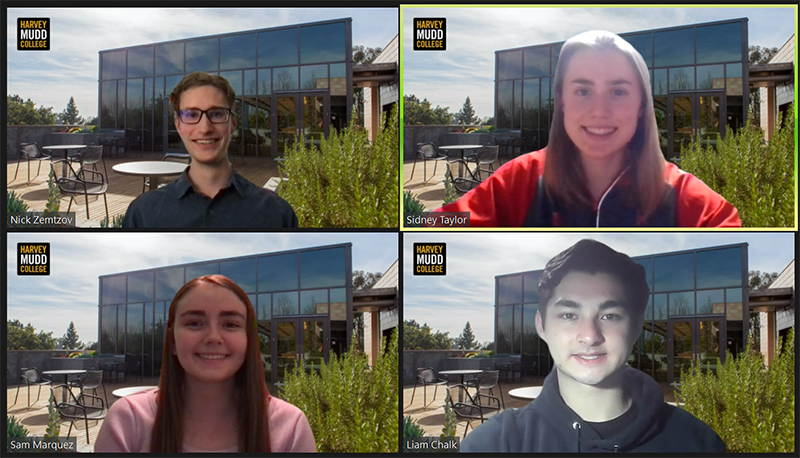 With the help of Harvey Mudd College engineering students, a Southern California contract packaging company is becoming more competitive, efficient  and profitable.
A detailed, comprehensive work plan, developed by the students with guidance from their professor Kash Gokli, Oliver C. Field Professor of Manufacturing Practice and Engineering Economics, won first place ($300) in the technical paper competition at the recent West Coast Industrial and Systems Engineering Conference held through Zoom. As the first place winner, the Harvey Mudd team will represent the region in the Undergraduate Technical Paper Competition Global Finals at the IISE Annual Conference & Expo in Seattle, Washington.
Supported by the Department of Engineering's Riggs Fellowship, Liam Chalk '23, Sam Marquez '22, Sidney Taylor '23 and Nick Zemtzov '23 worked during summer 2021 for WePackItAll (WPIA), located in Duarte and Irwindale, California. The company performs primary and secondary packaging for a wide variety of customers and products. In their winning paper, the Harvey Mudd team described how they examined the company's processes and employed lean manufacturing methodologies to increase the processes' throughput and reduce the frequency and severity of quality defects. They designed and implemented a new packout line, developed new operating procedures and designated production roles using insight from a value stream map, takt time calculations and the concepts of single-piece flow.
By increasing worker productivity, WePackItAll is able to reduce the number of operators needed to achieve the desired output, allowing them to reduce direct labor costs. Specifically, the team's work resulted in a 28% improvement in carton production per shift per person, and a new layout across three packout lines and two shifts amounted to $1.26 million saved annually.
The Harvey Mudd team saved an order of magnitude more money for WePackItAll than their closest competitor. Sidney Taylor says she believes their project also stood out because "instead of just talking about the process engineering techniques we used, we really emphasized how we transformed the culture. The project would not have been as successful as it was without the buy-in of the people at WePackItAll, an aspect of process engineering which can be overlooked."
"Beyond the monetary gain of the project, the cultural impact of the lean philosophy has improved company processes," says team member Nick Zemtzov. "The team lead and the operators now have a greater sense of ownership of the line and the process, a spirit of teamwork, greater engagement in their work and higher morale overall."
The company is seeing its new packaging line maintain high quality, decreased inventory and reduced changeover time, resulting in higher and more consistent throughput.
Regarding the West Coast Industrial and Systems Engineering Conference, Zemtzov adds, "It was a great experience and opportunity to network with other engineering students and professionals. We got to hear about the experiences of industrial engineers in industry, and they shared a lot of insight about the field."