Commencement Speakers for April 2 Ceremonies Announced
January 18, 2022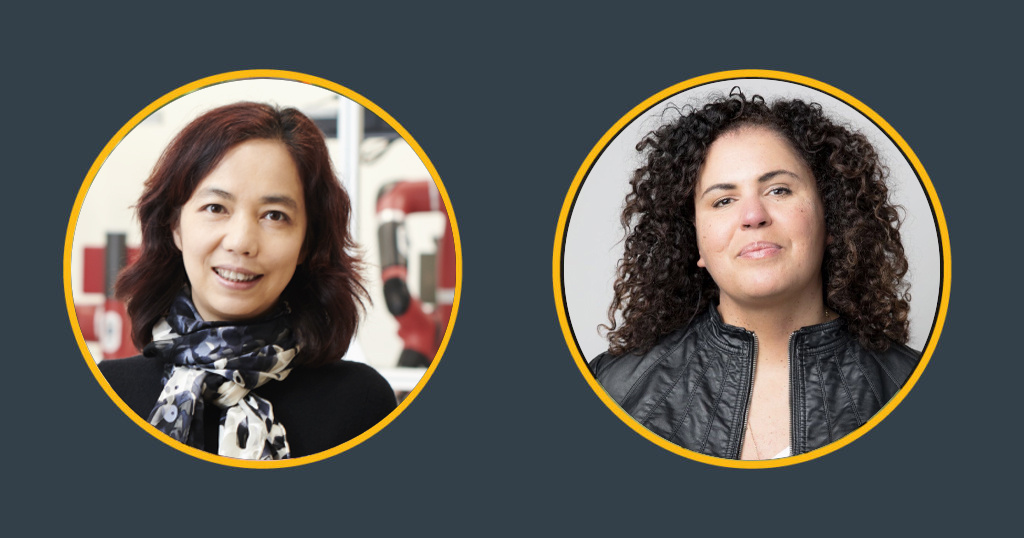 After postponing Commencement ceremonies due to COVID-19 pandemic restrictions, Harvey Mudd College is excited to bring students, their families and community members together to celebrate. The College has announced speakers for its 62nd and 63rd Commencement ceremonies, scheduled for April 2 on the HMC campus.
The 10 a.m. ceremony for the Class of 2020 will feature AI thought leader and champion of STEM diversity Fei-Fei Li. When she was selected as the class' speaker in 2019, student leader Priyanka Agarwal '20 remarked that Li "exemplifies the leadership, impact, depth of experience and knowledge that our class wishes to see in our commencement speaker. We believe that her work in increasing diversity and inclusion in AI education aligns well with the Harvey Mudd mission statement. Given her background and vast experience, we are hoping she can provide invaluable insight, lessons and guidance for our class."
The Commencement speaker for the Class of 2021, MacArthur Fellow and scholar Safiya Umoja Noble, will address graduates and their guests during the ceremony beginning at 2 p.m. Noble is the author of a best-selling, widely lauded book on algorithmic bias titled Algorithms of Oppression: How Search Engines Reinforce Racism (NYU Press). Martin Gonzalez '21 and Christian Garcia '21 worked with classmates to bring Noble to Claremont.
Speaker Biographies
Fei-Fei Li
Li is the inaugural Sequoia Professor in the Computer Science Department at Stanford University and co-director of Stanford's Human-Centered AI Institute. She served as the director of Stanford's AI Lab from 2013 to 2018. During her 2017–2018 sabbatical from Stanford, she was vice president at Google and served as chief scientist of AI/ML at Google Cloud.
Li obtained a bachelor of arts degree in physics with high honors from Princeton and a PhD in electrical engineering from California Institute of Technology. She joined Stanford in 2009 as an assistant professor. Prior to that, she was a faculty member at Princeton University (2007–2009) and University of Illinois Urbana-Champaign (2005–2006). Li's main research areas are machine learning, deep learning, computer vision, and cognitive and computational neuroscience. She is the inventor of ImageNet and the ImageNet Challenge, a critical large-scale dataset and benchmarking effort that has contributed to the latest developments in deep learning and AI.
In addition to her technical contributions, Li is a leading advocate for diversity in STEM and AI. She is co-founder and chair of the national non-profit AI4ALL aimed at increasing inclusion and diversity in AI education.
Safiya Umoja Noble
Noble is a 2021 MacArthur Fellow and an associate professor at the University of California, Los Angeles (UCLA) in the Department of Information Studies where she serves as the co-director of the UCLA Center for Critical Internet Inquiry. She is the author of a best-selling book on racist and sexist algorithmic bias in commercial search engines, titled Algorithms of Oppression: How Search Engines Reinforce Racism (NYU Press), which has been widely-reviewed in journals and periodicals, including the Los Angeles Review of Books, featured in the New York Public Library 2018 Best Books for Adults (non-fiction), and recognized by Bustle magazine as one of 10 Books about Race to Read Instead of Asking a Person of Color to Explain Things to You.
Noble is the recipient of a Hellman Fellowship and the UCLA Early Career Award. Her academic research focuses on the design of digital media platforms on the internet and their impact on society. Her work is both sociological and interdisciplinary, marking the ways that digital media impacts and intersects with issues of race, gender, culture and technology. She is regularly quoted for her expertise on issues of algorithmic discrimination and technology bias by national and international press including The Guardian, the BBC, CNN International, USA Today, Wired, Time, Full Frontal with Samantha Bee, The New York Times and Virginia Public Radio, and a host of local news and podcasts, including Science Friction, and Science Friday to name a few. Recently, she was named in the "Top 25 Doers, Dreamers, and Drivers of 2019" by Government Technology magazine.
Noble is the co-editor of two edited volumes: The Intersectional Internet: Race, Sex, Culture and Class Online and Emotions, Technology & Design. She currently serves as an associate editor for the Journal of Critical Library and Information Studies and is the co-editor of the Commentary & Criticism section of the Journal of Feminist Media Studies. She is a member of several academic journal and advisory boards, including Taboo: The Journal of Culture and Education. She holds a PhD and M.S. in library and information science from the University of Illinois at Urbana-Champaign, and a bachelor of arts degree in sociology from California State University, Fresno, where she was recently awarded the Distinguished Alumni Award for 2018.