Gokli Named Inaugural Director of Entrepreneurship Initiatives
October 26, 2021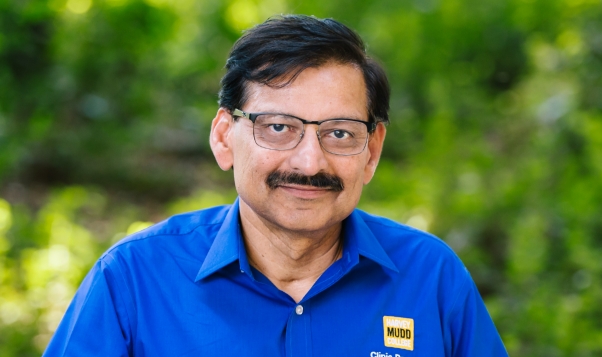 Engineering professor Kash Gokli has been named Harvey Mudd College's inaugural director of entrepreneurship initiatives. In this new role, Gokli will strengthen and expand the College's entrepreneurial education offerings and activities.
"This is an exciting opportunity," said Gokli, Oliver C. Field Professor of Manufacturing Practice and Engineering Economics. "There are a lot of initiatives already happening at Harvey Mudd, and now we can bring it all under one umbrella and add more, to create a truly impactful entrepreneurship program. It's not a question of whether we will be successful or not, it's a question of how far we can take it."
Gokli will collaborate with a multi-constituency working group on entrepreneurship co-chaired by trustees Sergio Monsalve P25 and Bob Hulse '96/97 and faculty members Albert Dato and Darryl Yong '96, to design and support a set of curricular and co-curricular activities that will nurture Mudd's next generation of entrepreneurs. Gokli will build upon the substantial legacy of Gary Evans, professor of economics emeritus, and the ongoing efforts of the Harvey Mudd College Entrepreneurial Network.
"We want to provide opportunities to students from their first year through the fourth, so they can learn and grow and become entrepreneurs," Gokli said. "Starting with seminars, workshops, events, summer fellowships and eventually coursework, we hope to provide education, practical experience, networking and funding opportunities."
"Entrepreneurship education is not only for those students who want to start their own companies," said Gokli, "but also for students who want to join an already established   company or become social entrepreneurs to impact society. Entrepreneurial skills and an entrepreneurial spirit can benefit students in all career paths."