McGregor Computer Science Center Receives Design Award
August 26, 2021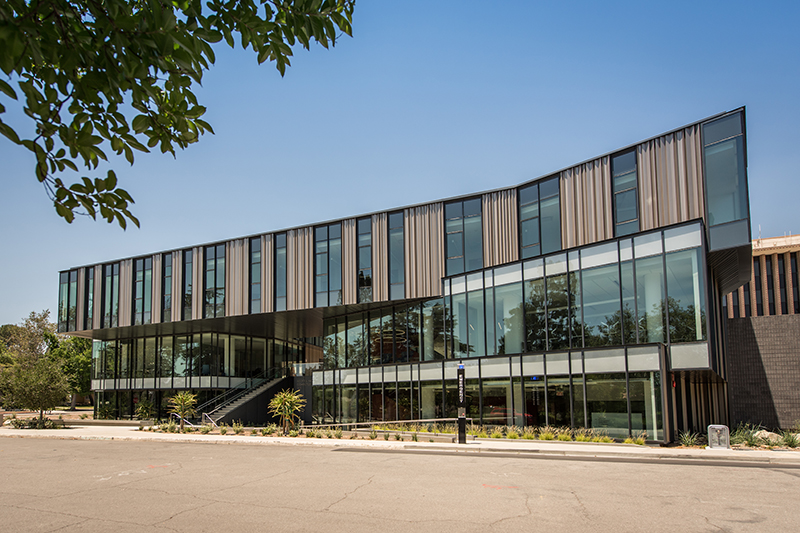 Engineering News-Record (ENR) California has named the Harvey Mudd College Scott A. McGregor Computer Science Center as Southern California's Best Higher Education/Research Project.
Winning projects are deemed "best" based on a number of criteria, including construction quality and craftsmanship, functionality of design and aesthetic quality, innovation and contribution to the industry/community. The three-story, 36,000-square-foot McGregor Center provides a new home to Harvey Mudd's rapidly growing computer science department and houses a permanent makerspace, labs, Clinic space, student study and collaboration space, as well as administrative and faculty offices.
"The McGregor Computer Science Center brings faculty offices, teaching labs, research labs and project work areas into one space, which will help us build a sense of community and belonging while also allowing us to better respond to the needs of students in a more integrated, cohesive way," says Jim Boerkoel, chair of the Department of Computer Science. The building features a welcoming, expansive first-floor lobby as well as ample study, hangout and collaboration spaces. The design is tied to strategies that invigorate interdisciplinary collaboration.
"Steinberg Hart, the architects who designed the McGregor Center, did a very creative job of situating the makerspace on the ground floor," says Jeff Groves, Louisa and Robert Miller Professor of Humanities and director of the makerspace. "That design is going to encourage student creativity in turn, and I can't wait to see students begin to utilize the space for their personal and curricular projects. Our students have always been creative, and now they have a vibrant new space that will allow them to exercise their passions in new and exciting ways."
ENR annually honors the best construction projects and the companies that design and build them; Steinberg Hart (architect) and DPR Construction worked on the McGregor Center. This year more than 45 projects in California and Hawaii received Best Project or Merit awards. As a regional competition winner, the McGregor Center is being considered for ENR's Project of the Year, to be announced in October.
In December 2020, the McGregor Center won the Southern California Development Forum's Honor Award (Unbuilt/Under Construction category) and its 2020 People's Choice Award.