Harvey Mudd Selected as First-gen Forward Institution
March 5, 2021

Harvey Mudd College has received the First-gen Forward Designation, a national honor that recognizes institutions of higher education that have demonstrated a commitment to improving experiences and advancing outcomes of first-generation college students.
Harvey Mudd will join the 2021–2022 First-gen Forward cohort along with other selected colleges and universities and will take part in the program's professional development, community-building experiences and access to research and resources.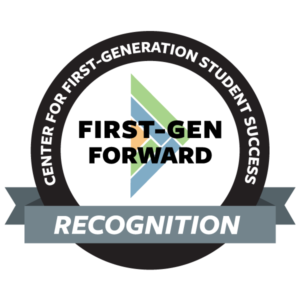 "We are excited to take part in this initiative because we will be able to highlight what we are doing here at Harvey Mudd and also bring back valuable resources and tools to our students," said Jennifer Alanis, associate dean of institutional diversity.
The First-gen Forward designation is awarded by the Center for First-generation Student Success, an initiative of NASPA – Student Affairs Administrators in Higher Education and The Suder Foundation.
"When the applications were released, the Office of Institutional Diversity staff with support from Student Affairs decided to apply so that we can continue to gain additional tools to enhance the support and services we provide to our first-generation students," said Alanis. "We also wanted to continue to build competencies and networks when using evidence-based practices for the programs we offer our students."
"The Center is so pleased to welcome Harvey Mudd College into the 2021–2022 First-gen Forward cohort," said Sarah Whitely, assistant vice president, Center for First-generation Student Success. "Through the application process, it was evident that Harvey Mudd is not only taking steps to serve first-generation students but is prepared to make a long-term commitment and employ strategies that foster an environment of success for this important population."
As a First-gen Forward Institution, Harvey Mudd faculty and staff will be afforded multiple opportunities to engage with peer institutions who are also creating environments that improve the experiences and outcomes of first-generation students. Selected institutions will send representatives to the First-gen Forward Workshop slated for early-June and will participate in monthly phone calls, virtual professional development, goal-setting, blog development, annual reporting and more. After two successful years in the program, institutions are eligible to apply for the Advisory leadership designation.
Over the past several years, Harvey Mudd has strengthened programming, resources and support for first-generation students. The College's efforts include Project Decode, a student-led mentoring and affinity program that provides guidance and networking for first-generation and/or low-income students; the HMC I'm A First initiative which highlights first-generation faculty and staff through various talks and offers programming as way to connect with Harvey Mudd students, staff, faculty, and alumni; First Gen Fridays lunch series which provides workshops and networking opportunities for first-gen students and Summer Institute.
Learn more about Harvey Mudd's First-generation College Student Initiative.
Learn more about the NASPA/Suder Foundation Center for First-generation Student Success