Klawe and Colf '95 Honored by STEAM:Coders
October 21, 2020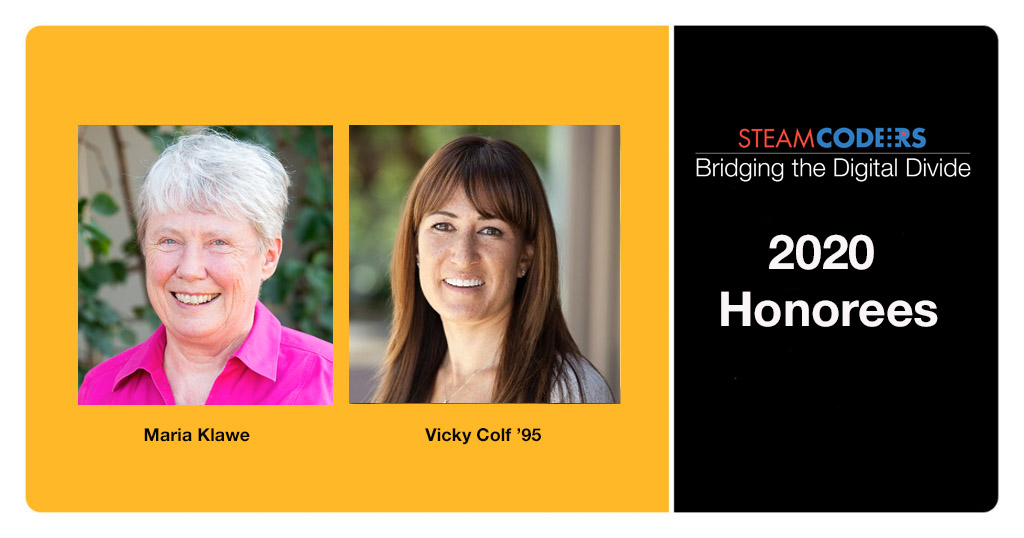 Harvey Mudd College President Maria Klawe and alumna Vicky Colf '95 are being honored by STEAM:Coders for their leadership and service during a virtual event Oct. 22.
STEAM:Coders is a nonprofit organization dedicated to inspiring underrepresented and underserved students and families through the fundamentals of science, technology, engineering, art and math (STEAM). Their virtual event, Bridging the Digital Divide, is a celebration of the nonprofit's work supporting disadvantaged youth and honoring members of the community, like Klawe and Colf, who support STEAM:Coders.
Klawe is one of its earliest supporters.
"President Klawe has demonstrated an extraordinary commitment to diversity and inclusion—especially for women—in the STEAM fields," says Charmayne Ealy, STEAM:Coders director of operations. "Her stewardship has not only transformed Harvey Mudd College, but has also inspired the school's students to become actively involved in the local community, through their involvement in a variety of nonprofit organizations. She continues to support our efforts to help bridge the digital divide."
Klawe has supported the Pasadena-based organization since 2016, offering space at HMC for its STEAM programs, including classrooms and computer labs. In addition, HMC student interns, faculty and staff, including those in the Office of Community Engagement, have helped develop the program, which benefits local middle school students.
Colf, HMC engineering alumna, chief technology officer at Warner Bros. and global head of content and enterprise technology at WarnerMedia, is recognized for her leadership and service to the Southern California community as well as her commitment to diversity and inclusion in the STEAM fields.
A 2020 HMC Outstanding Alumna, Colf, who is on the STEAM:Coders board, became a strong partner of the nonprofit, offering technical support and welcoming middle school students to Warner Bros. Burbank lot for creative workshops with industry professionals. As a board member, Colf has brought management expertise and vision to STEAM:Coders.
"Vicky's hands-on stewardship at Warner Bros. has made an impact and has also inspired her team to become actively involved in the local community, through their support of nonprofit organizations, such as STEAM:Coders," says Ealy. "We are a stronger and more focused organization, due to her support. She continues to help us fulfill our vision and mission."