Watson Fellow Marino '20 to Work Out Around the World
April 16, 2020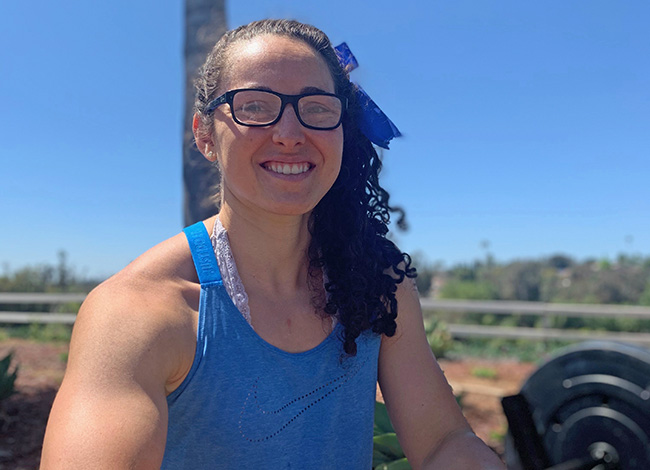 Workouts build more than muscle, they're also helpful for managing stress, overcoming mental and physical barriers and, for Harvey Mudd College engineering major Victoria Marino '20, being the best version of herself. A Watson Fellowship will allow Marino to explore "Beyond the Playground: International Workouts." As a 2020 Watson Fellow, she receives a $36,000 stipend to pursue "a year of unparalleled international discovery." She plans to travel to Colombia, Chile, India, Egypt and China.
Beginning in August (and based on international travel conditions), Marino will immerse herself in gyms around the world with a main focus on playground-style gyms. "I will spend my time working out with calisthenic workout groups across different cultures and communities to explore how working out provides a physical, mental and emotional release and challenge myself to gain a better, global and empathetic understanding of others."
An engineering major and first-generation college student, Marino transferred to Harvey Mudd from Palomar College, a community college in San Marcos, California. In addition to working out regularly at HMC, she became the athletics director for the Associated Students of Harvey Mudd College (ASHMC) and worked with Division of Student Affairs staff and fellow students to improve athletic resources and equipment. Her academic work includes participating in a 2018 health hackathon in New York, where she and fellow team members brainstormed, planned and built a prototype of an at-home EEG kit for infants. To prepare for medical school, she has done research at Johns Hopkins School of Medicine (genetics lab), Cornell-Rockefeller-Sloan Kettering (neurobiological lab) and in HMC engineering professor Elizabeth Orwin's lab (bioengineering) as part of the Engman Fellowship Program.
Her Watson year precedes her entry to medical school at University of Illinois at Chicago College of Medicine in the Innovation of Medicine track and Medical Scientist Training Program. She sees the fellowship as preparation for participation in Doctors Without Borders. "I want to grow a more diverse and global perspective through travel and experiences around the world to be able to most effectively use my position to better treat and serve patients, abroad and within the United States."
Marino says, "My goal is to immerse myself in new experiences through the commonality of the gym to gain emotional growth and a more global perspective to make me a better sister, daughter and future physician-scientist."
Among 40 participating institutions, 153 finalists were nominated for the 2020 Watson Fellowship to compete on the national level, and 47 fellows were selected. Harvey Mudd College nominated its first students for the fellowship in 1976 and has had one or more students selected for the honor nearly every year since. Lori Bassman, professor of engineering, is the Watson Fellowship program advisor.