Javelin Thrower Inducted into CMS Hall of Fame
February 17, 2020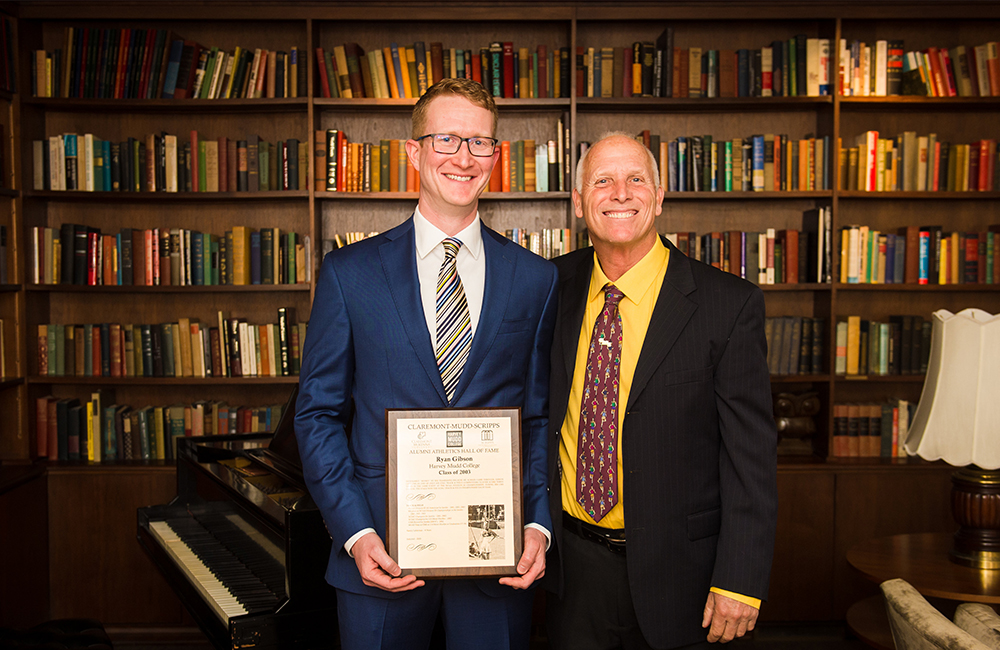 Javelin thrower and hurdler Ryan Gibson '03 (computer science) joined the 2020 class of athletes inducted into the Claremont-Mudd-Scripps Athletics Alumni Association Hall of Fame last month.
"This record-setting group exemplifies the culture of all-around excellence that we strive for on a daily basis here at CMS Athletics," said Erica Perkins Jasper, director of athletics, physical education and recreation, during the ceremony.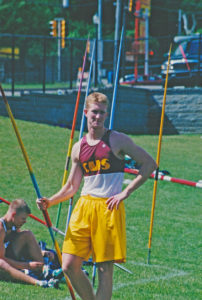 Gibson was a three-time All-American in the javelin throw, placing sixth nationally at the NCAA Division III Championships in 2001, 2002 and 2003. He won three SCIAC championships, two in the javelin (2001 and 2002) and a third in the 110-meter hurdles (2003). Gibson set the program record in the javelin as a junior in 2002, throwing 208 feet, 4 inches, a record which still stands to this day. He also ranked fourth all-time in the 110-meter hurdles upon graduation. Nicknamed "Money" by his teammates, Gibson left CMS as one of only six Stags who had scored three times in the same event at the NCAA Championships. During his four years on the team, the Stags won the SCIAC Championship each year.
CMS track and field coach (1984–present) John Goldhammer, who was also being inducted into the CMS Hall of Fame, introduced Gibson and presented him with a commemorative plaque.
During his acceptance speech, Gibson shared some of his experiences balancing academics and athletics during college. "Freshman year at Mudd was pretty rough for me," he said. "I struggled with a lot of self-doubt, wondering if I'd made the right choice coming to Mudd and trying to do track at the same time." Eventually, after a heart-to-heart conversation with Goldhammer, he decided to persevere.
"I committed myself to the team, and day after day, week after week, month after month, things did get better, and I started to have some confidence that not only do I deserve to be here, but I can also contribute to the team," he said.
Gibson closed his speech with some advice for his two children, who attended the event along with his wife, parents, mother-in-law and a former classmate. "Just because you're not good at something when you first start doing it, either academically, athletically or professionally, that doesn't mean that you can't eventually get really good at it, but not without a lot of practice, perseverance and, most importantly, confidence in yourself. Do it. And then, when you find something that you really enjoy doing—soccer, singing in a musical or just throwing a stick really far—if it's going to make you happy and you enjoy it, just commit yourself to it and have the confidence in yourself because you can be really good."
In addition to Goldhammer and Gibson, Dianna Turner-Graves CMC '98, Ryan Gocong CMC '03 and Todd McKenzie CMC '88 were also inducted. CMS now has 133 members in its Hall of Fame.