Students Win Global Case Competition
October 3, 2019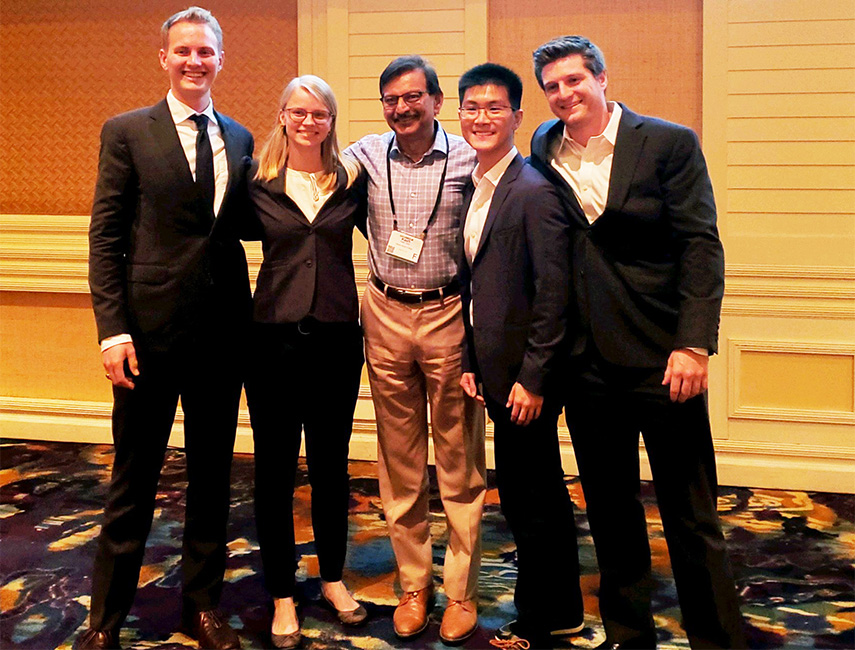 For three years, Kash Gokli, professor of manufacturing practice and Engineering Clinic director, has advised a team of students competing in the Association for Supply Chain Management (ASCM) student case competition. Each team advanced a little farther than the team before. This September in Las Vegas, Bohan Gao '19, Charles Dawson '19, Ryan Haughton '19 and Lydia Sylla '19 became the first HMC team to place first in the finals at the Global Case Competition sponsored by ASCM and Deloitte.
"When the announcement was made that our team had won the first place in the global supply chain competition, I had tears in my eyes," Gokli says. "I was so proud of the team for their achievement."
The HMC team, after competing in four rounds, rose to the top of a field of 277 teams—representing 140 schools and 26 countries—each tackling a challenging business case from Deloitte's supply chain practice.
"The final case focused on a dairy distributor called Milkman Dairy," says Sylla. "They were struggling to handle the expansion of their multi-channel distribution of milk, cheese and butter and were seeing dropping levels of customer service and increased spoilage of product due to problems within their supply and distribution networks. We specifically looked at improving their ability to forecast demand, the management of their purchase order and invoicing documentation and the physical layout of their warehouse."
The team had six-and-a-half hours to develop a solution, which they then presented to a panel of judges.
They drew from four years of presentation experiences. "Overall, our presentation was the most polished one with clean and informative graphics—something Harvey Mudd has repeatedly trained us to produce," Gao says. "It would not be an exaggeration to say that the presentation skill we acquired in engineering and HSA classes and Clinic helped us win this supply chain competition."
Gokli admits that when ASCM first contacted him about fielding a Harvey Mudd College team for these competitions, he wasn't sure the students would be successful since they are not supply chain experts. He recalls wondering how they would succeed against MBAs and master's students in supply chain. "I was proved wrong," Gokli says. "In 2017, our team came in first in the west coast competition. In 2018, our team came in third in the global competition. And now, this year we are the global champions."
Past experience has certainly helped the team succeed. "It was definitely different to enter the competition with a vivid recollection of what happened a year ago," says Gao, who's been a member of the last two HMC teams in ASCM competitions. "I had a lot more expectation about what the case would look like and how I would approach it."
Gokli assembled the team with students from his E182 Manufacturing Planning and Execution and E183 Management of Technical Enterprise courses, in which they learn fundamentals of manufacturing, supply chain, business, engineering economics, investment and finance, all skills that come in handy in supply chain problem solving. All four students are also recipients of the Henry E. and Gayle Riggs Fellowship in Engineering Management, a program that emphasizes the core values of professional practice and hands-on experiential learning in an educational environment.
Gokli sees the ASCM win as affirmation for the College's engineering program, which teaches students to be successful problem solvers in any engineering discipline. "A secret to their success is to successfully analyze data, make sound strategic decisions, provide strong solutions and then present and defend their decisions very effectively," Gokli says.
"The Harvey Mudd student team did a fabulous job in presenting clear and powerful recommendations to a mock board of directors at the ASCM International Student Case Competition," says Lisa Anderson, president of LMA Consulting Group Inc and APICS Inland Empire Chapter. "As a former executive of a mid-cap private equity backed manufacturing company, I would have felt comfortable taking them with me into the U.K. boardroom, knowing we'd gain support to proceed with the plans and generate a significant ROI and increase the value of the company. As president of APICS Inland Empire, I couldn't have been more thrilled and proud that they took home the gold!"
Since all four teammates graduated in 2019, the competition in Las Vegas was like a reunion. "It is good to catch up, spend some quality time binge watching the Bellagio fountain shows (we watched four in a row) and represent Harvey Mudd together for one last time," says Gao. "It was like we were back in E183 class again. I couldn't have asked for a better way to finally conclude my career as a Harvey Mudd student. We have proven that even without a dedicated course in supply chain management, Harvey Mudd can still train its students to be highly competent in this field."