Clinic Program Offers Social Justice Focus
July 29, 2019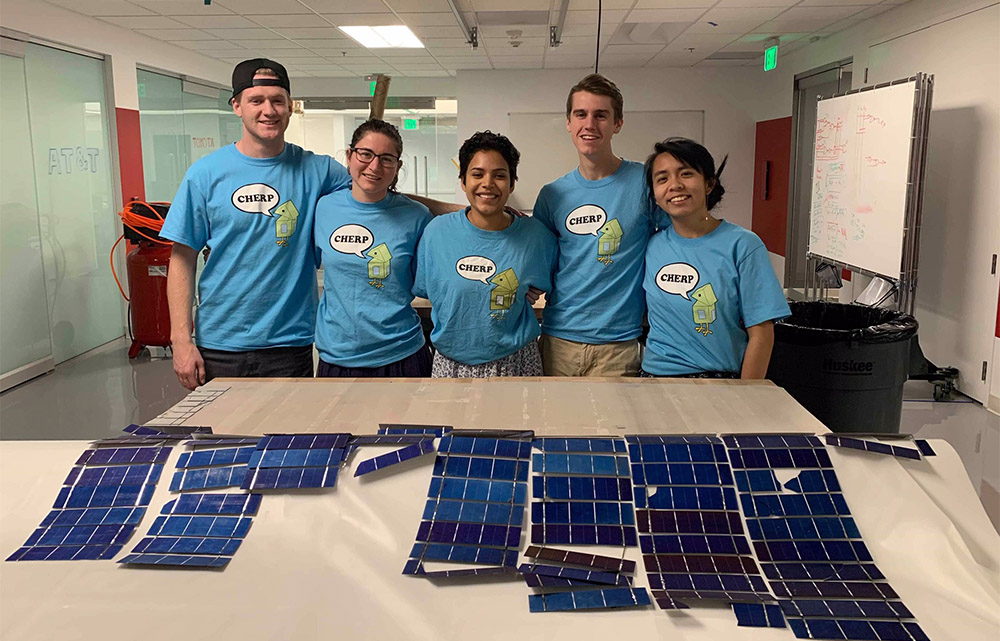 The 2018–2019 Clinic Program included three projects (two engineering and one mathematics) that allowed a team of Clinic students to work on a project related to social justice. Funded in part by an educational leadership grant that President Maria Klawe received from the Carnegie Corporation, the three projects supported non-profit organizations with technical expertise.
"One of the things at HMC that we're particularly proud of is our Mission Statement and our commitment to educate engineers, scientists and mathematicians who will think carefully about their impact on society," Klawe says. "We've been doing this since we were founded, in 1957. We feel that incorporating social justice ideas into Clinic projects is one way we can encourage teams of students to think about that impact while they work on a project."
"Innovation in engineering and technology can be difficult for disadvantaged communities to access," says Colleen Coxe, senior director of corporate relations, who works with faculty to recruit Clinic projects. "Social justice can have many connotations. In the context of Clinic, we looked for projects that would have a tangible impact on a community by providing it with technical resources that might not otherwise be accessible. We hoped these projects would enable students to see how they could help improve the quality of life of individuals or the community as a whole."
The first year of the program was received enthusiastically by students. Two of the three projects resulted from proposals initiated by students and the third came from a partnership the College has through the Office of Community Engagement.
"We learned quite a bit during the pilot program in 2018–2019," says Coxe. "We will have two more social justice Clinic projects in 2019–2020, and we are working on a plan to allow us to support two every year going forward."
Local Factory Startup: Claremont Pomona Locally Grown Power (engineering)
Bringing solar energy to low- to middle-income households, creating jobs and cutting carbon emissions
A world-class solar panel factory has been designed by seniors Nate Smith, Giulia Castleberg, Christopher McElroy, Priscilla Chu and Jacquelyn Aguilera (Pitzer) guided by Kash Gokli, professor of manufacturing practice and engineering Clinic director. They produced an optimal plant layout, outlined detailed workstations and determined which specific machines, tools and equipment were needed.
"Most manufacturing Clinics take an existing factory and make it a little more profitable or a little faster or improve it in some way," says McElroy '19. "Instead, we worked with a blank slate with the goal of manufacturing solar panels.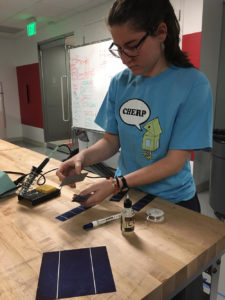 In order to understand the process and the technology, the students began by making a solar panel. They then toured solar panel manufacturing plants to see how the process worked on a larger scale and to determine which machines and materials were needed. Their work included preparing a financial analysis, sourcing material suppliers and designing a replicable factory floor layout. In June 2019, the State of California approved $2.1 million in budget funding for the construction of the facility; production is set to begin in 2020.
The team estimates that the factory will produce 200 middle-class manufacturing and construction jobs. The first production goal is to build and install 6,000 photovoltaic systems on low-to-moderate-income homes in the local area, which could save these homeowners $6.5 million in energy costs each year.
"That's real, added disposable income that will now be spent here, locally, on goods and services," says Clinic liaison Devon Hartman, president and CEO of Claremont Pomona Locally Grown Power and CHERP Inc. "It's the most powerful local economic stimulus we can create."
The 6,000 new systems will reduce carbon emissions by 26,700 metric tons per year, making it the least expensive carbon mitigation program of its kind in California. "Our goal with this initial factory is to take Claremont and Pomona to net-zero carbon emissions and to establish them as a national model for energy efficiency and renewable energy, proving that we can create sustainable energy and sustainable economics by focusing all efforts on stimulating our local economy, bringing back middle-class manufacturing jobs and seriously addressing our environmental justice issues," Hartman says.
"I am so glad to see our students making an impact on society while learning and applying their technical and professional skills. This aligns beautifully with the College's mission statement," says Gokli. 
Related video: A Smarter Solar Panel
Fresno Air Quality Monitoring and Mapping: Fresno Metro Black Chamber of Commerce (engineering)
Building a system to help Fresno assess the efficiency of its pollution-control initiatives
The city of Fresno is one of the most polluted and underserved communities in California. The Fresno Metro Black Chamber of Commerce partnered with local organizations and the Transform Fresno Climate Communities Collaborative to clean the air in downtown, Chinatown and southwest Fresno. To help monitor the results, students Kaitlyn Loop '19, Sidney Cozier '20, Eliana Goehring '19, Simone Griffith '19 and Jakim Johnson '19 were tasked with implementing low-cost sensors throughout the area to help visualize the fine particulate pollutant concentration.
"Our sensors allow the community to understand where problem areas still exist and how infrastructure is changing their air," says Griffith. "This opportunity was so meaningful for us. Not only were we challenged with a technical project, but we had to think deeply about how best to deliver our technical work to not only our liaisons, but for government officials, community organizations and residents. We got much more experience at the exact intersection of technical work and social impact."
Co-team advisor Tanja Srebotnjak, Hixon Associate Professor of Sustainable Environmental Design and director of the Hixon Center for Sustainable Environmental Design, says the Fresno air quality monitoring project was an excellent opportunity for the students to see how science and technology can shed light on a social problem, while simultaneously demonstrating the need for coordinated efforts involving scientists, policymakers, urban planners and the impacted community. "I was impressed by how quickly and seamlessly the students learned to transition back and forth between developing the system and coordinating the logistical aspects of the project with our liaisons at FMBCC," says Srebotnjak. "I think that there is growing interest among Harvey Mudd students in using their scientific and technical skills for positive social and environmental change. Our student team was exceptionally dedicated to making a difference through their technical work but also through their interest in the lived experiences of Fresno residents and those advocating for change."
"The most rewarding part of advising this project was seeing students get to apply technical skills to a problem that so clearly impacts an underserved population. Our students shine in this setting, where they easily transition from talking about the computational needs of the project to the community partners necessary for buy-in. They are the complete package," says chemistry professor, co-team advisor and atmospheric chemistry expert Lelia Hawkins.
Automating an Engine to Extract Educational Priorities for Workforce City Innovation: Pilot City (mathematics)
Keeping tech jobs within the existing community by developing students' skills 
PilotCity founder and Clinic liaison Derick Lee asks, "What if the core citizens in our communities, starting with our students, were the engine for innovation in our cities?" PilotCity aims to serve communities that do not have the assets, resources and talent of a larger metropolitan city to become thriving innovation ecosystems.
"Rather than attracting startups and talent as the primary economic development model to transform our cities, we are creating an engine for innovation by generating talent from our future base of citizens: the students in our schools," Lee says.
To help support an HMC Clinic-type program for high school students in Alameda County schools, the PilotCity team automated PilotCity programming using software and algorithms. They developed an integrated communication solution by using topic modeling to extract educational priorities from community college and high school syllabi.
The result effectively, seamlessly and scalably connects students to work-based learning experiences while in the classroom. The Clinic team created web interfaces for teachers, students and employers involved in the PilotCity Program and designed recommender systems that help match employers to high school classrooms. Selasi Adedze '19, Aanya Alwani '19, Madison Hobbs '19, Evan Liang '20 and Dominique Macias '19 were advised by Lee and mathematics professor Talithia Williams.