Gonzalez Elected NASPA Regional Director
March 6, 2019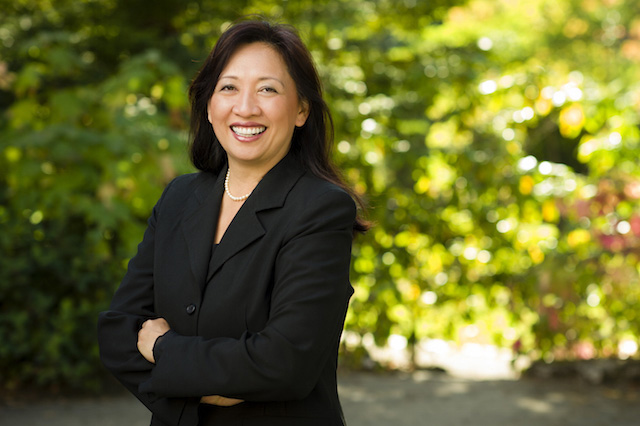 Anna Gonzalez, Harvey Mudd College vice president of student affairs and dean of students, has been elected to serve as Region VI Director for the Student Affairs Administrators in Higher Education, an association for the advancement, health and sustainability of the student affairs profession. Known by the acronym NASPA, it is the oldest international student affairs organization and has 15,000 members in all 50 states, 25 countries and eight U.S. territories.
"Being the director for Region VI means serving my first NASPA home where I was an undergraduate and graduate student and where I first worked as a full-time professional for 15 years," Gonzalez says.
Gonzalez anticipates her work with NASPA will enhance her experience at Harvey Mudd College. "It will give me more tools to navigate the landscape of higher education and student affairs," she says. "It will also allow me to study best practices and how we can continuously improve serving our students, and it gives me the opportunity to highlight the amazing work our students and staff do in the area of student affairs."
Gonzalez has developed four themes to explore during her two-year term: Courageous Conversations, Investing in our Future, Recognition and Voice to our Diverse Institutions, and Leadership Skills for all Members.
Each theme relates to an area in the student affairs field where Gonzalez sees opportunity for growth and improvement. "For example," she says, "student affairs professionals have the responsibility and opportunity to take lead roles in facilitating institutional discourse on the values of free speech and inclusion. We must continually develop ourselves so that we can model and lead our institutions to engage in courageous conversations with the purpose of education, understanding and dialogue."
This is Gonzalez's third time on NASPA's national board, having served before as an at-large board member. NASPA Region VI includes Arizona, California, Australia, Guam, Hawaii, Hong Kong, Malaysia, Singapore and China. She says she may get a chance to travel to some of the more distant areas of her region, but for now, she looks forward to attending conferences closer to home, beginning with the 2019 NASPA Annual Conference in Los Angeles this month.
"As a first-generation U.S. college student who immigrated to this country at the age of 10, I know firsthand the role that higher education plays in transforming communities," she says. "The promise of a college education transformed me and my family. My service to the profession of student affairs has been influenced by my commitment to creating accessible educational experiences for all individuals, especially those who have historically been disenfranchised in this nation's history. I am humbled by the opportunity to lead our region and advocate for our members, from students to student affairs professionals in all stages of their careers."