Celebrating Success: The Campaign for Harvey Mudd College
February 22, 2019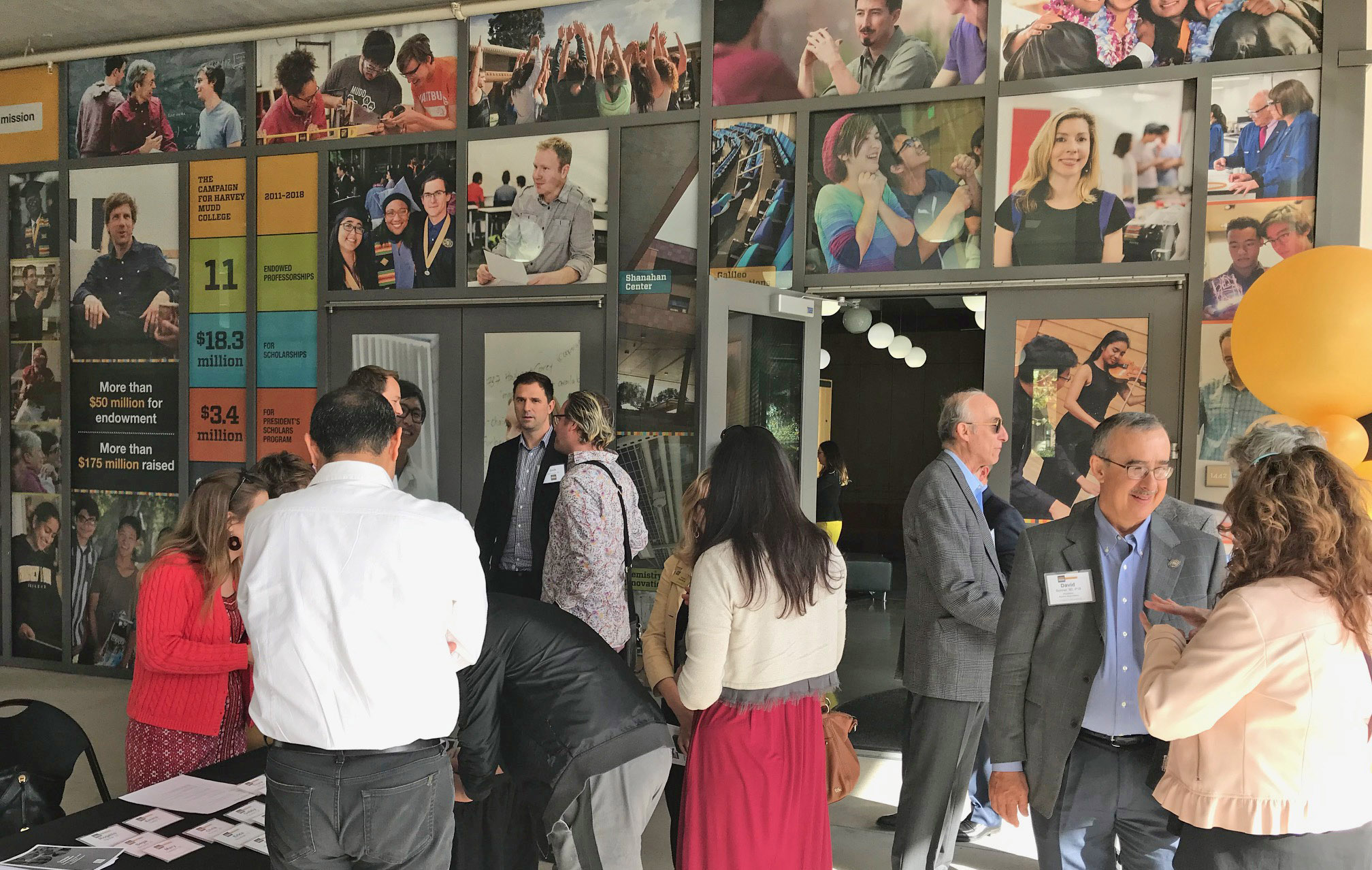 The Harvey Mudd community gathered on campus Jan. 26 to celebrate the successful conclusion of The Campaign for Harvey Mudd College. The event included presentations from the recipients of scholarships, summer experiential learning stipends and endowed chairs as well as those who work in newly renovated spaces and live in the new residence hall—all made possible by the generosity of those who supported the campaign.
Exceeding the $150 million campaign goal (over $175 million raised) has transformed the people, places and programs at Harvey Mudd. The seven-year comprehensive campaign began in July 2011 and launched publicly in February 2014 with a goal of $150 million.
"The goal was ambitious, set at twice what was raised in the last campaign ending in 1994," said President Maria Klawe. "But we had a strong and unified vision, a committed board of trustees and a growing engagement among our alumni and parent communities that gave us confidence that our community could achieve this goal."
Campaign Results
At the close of the campaign, Dec. 31, 2018, the College had raised more than $175 million, including money for
11 new endowed professorships
$18.3 million for scholarships
$14.4 million for faculty-student experiential learning
$3.4 million for faculty innovation and curricular development
There are also new facilities, like the Shanahan Center for Teaching and Learning, and renovated spaces, including Clinic Program areas, Galileo Hall and chemistry teaching labs.
"The campaign has transformed Harvey Mudd in so many different ways," said Wayne Drinkward '73, chair of the HMC Board of Trustees, campaign chair and a longtime donor to the College. In addition to providing the lead gift for the Wayne and Julie Drinkward Residence Hall, the Drinkwards previously provided significant support toward the construction of the R. Michael Shanahan Center for Teaching and Learning. In recognition of the couple's support of the Shanahan Center, the recital hall bears their names and provides the gift of music to students and the surrounding Claremont community.
"With this thank you celebration, we wanted to give you a taste of how all the different gifts that came in through the campaign impacted our community members," Klawe said.
Faculty and student speakers described the ways the campaign has made a difference in their lives and on campus.
"I've never felt more honored than when my position got endowed," said Ken Fandell, professor of art and holder of the Michael G. and C. Jane Wilson Chair in Arts and the Humanities. "The staff, fellow faculty and administration have not just given me help, space and time to do my work (called 'research' in the arts) and develop my teaching, but they've encouraged me to try new things and go in new directions."
Several of Fandell's students—Zoe Ryan '20, Lukas De Simone '20, Wing-Yee Law '21 and Louisa Cornelis '19—described how art has allowed them to experiment, take risks and learn what it takes to excel as an artist.
Undergraduate Research
Chemistry professor Lelia Hawkins remarked that one of the greatest benefits at HMC is pursuing her research program with undergraduates who are "smart, passionate, and every bit as capable of being genuine collaborators on my research as graduate students are." Hawkins' work, and that of her student collaborators, is supported by the Mudd European Travel Fund and student research fellowships, a priority of the campaign and ongoing fundraising. Since 2015, students working in her lab have had the opportunity to collaborate with researchers at the University of Paris and the University of San Diego to better understand how clouds transform the chemical and optical properties of aerosol particles. Hawkins plans to continue to do research in Paris for three more years with Harvey Mudd students like Elise Pennington '17, now a PhD student studying atmospheric modeling at Caltech.
"I was in charge of the data analysis and helped with the instrumentation, chamber functionality and making decisions," said Pennington of her undergraduate work with Hawkins. "I really got to experience many different aspects. It was my first time going out of the U.S.—an amazing experience. It really helped me grow as a person."
Faculty/student experiential learning stories from the Department of Humanities, Social Sciences, and the Arts, the Department of Engineering and the Department of Biology illustrated the broad impact of the campaign upon programs, spaces and research. Jae Hur, assistant professor of biology, is interested in the process of aging and how it happens at the molecular level. His senior thesis student Camille Goldman '19 described her work, which focuses on repair systems specific to the mitochondria. Using physiological assays, including a climbing assay and a respiration assay, she is observing how aging flies that over-express ClpXP are affected when that protein coding gene is increased.
Clinic & Community Engagement
The Clinic Program has benefited from updated spaces for meeting, prototyping and testing. Engineering Professor Leah Mendelson introduced the City of Hope Clinic team, whose members described their work on an inexpensive, wearable tracking system that measures the exercise movements of breast cancer patients performing rehabilitation exercises. The device is designed to relay data to an occupational therapist thereby increasing convenience and reducing the cost to patients. Such collaborative work demonstrates to HMC students their potential impact to society.
The Computer Science Department, represented by Colleen Lewis, holder of the McGregor-Girand Chair (one of the newest, campaign-funded professorships), highlighted a community service program, STEAM:Coders, which receives funding support from the Office of Community Engagement. Engineering major Mary Celestin '21 co-taught an Introduction to Coding class for 20 high school girls in the program. "They had a really wonderful time and were super excited to present to their parents and express their newfound interest in computer science, not only as a career but something they could use all the time, every day and show to their friends as something that is cool and exciting."
Impacts of Donors' Generosity
Physics department chair Theresa Lynn shared her excitement and appreciation for the Shanahan Center, completed in 2013. "Being able to teach in here with light-filled spaces, lots of technology built into the classrooms and reconfigurable furniture to hold class in many ways has just transformed the way we think about our day-to-day lives here," said Lynn. She described how campaign donors' generosity allowed the physics department to maintain and expand summer research opportunities and how physics research students have gone on to publish in Physical Review Letters and win poster awards at conferences often dominated by graduate students and post docs.
Lisette de Pillis, chair of the Department of Mathematics and Norman F. Sprague Jr. Professor of Life Sciences, described how one donor's gift made a significant difference in her work in mathematical biology and cancer immunology as well as that of other faculty members who study biological aggregation, mathematical modeling in the K-6 curriculum, and mathematics and magic. So far, the generous donation has funded 12 awards that support math faculty efforts to engage in professional and scholarly activities, including research, conference travel and course development. "This is just a small glimpse into the critical impact that can be made through generous support provided by just one person," said de Pillis. "So, multiply that by each of you and we are able to achieve more and do more."
A New Building & More Opportunities
The support from donors to The Campaign for Harvey Mudd College has created even more opportunities for the College and its students to make an impact on society and has better positioned the College for its next ambitious endeavors. Later this year, the College will break ground on the Scott A. McGregor Computer Science Center, which will house the computer science department and a state-of-the-art, collaborative makerspace. Several speakers mentioned ways the new building will contribute to the life of the campus. In particular, it will enable renovation and expansion of teaching and research spaces in other departments, including physics. "The ability to aspire toward some really exciting renovations is an important outcome of the campaign for all of us," said Lynn, physics chair.
Looking to the future, the College will continue raising funds to support the priorities of the campaign as well as other opportunities, including
Permanent funding for summer research (faculty stipends and student support)
Curricular innovation and revision of the Core
Formalizing and growing entrepreneurship efforts
Increasing collaboration around data science research and education
Building a more diverse and inclusive community
Supporting innovation across academic departments
Bolstering co-curricular opportunities and student support services
"Gifts to Harvey Mudd are truly an investment in our shared community," said President Klawe. "We deeply appreciate everyone who gave generously throughout the campaign and those who will continue to support the College."