Engineering Students Place Third in Global Competition
October 19, 2018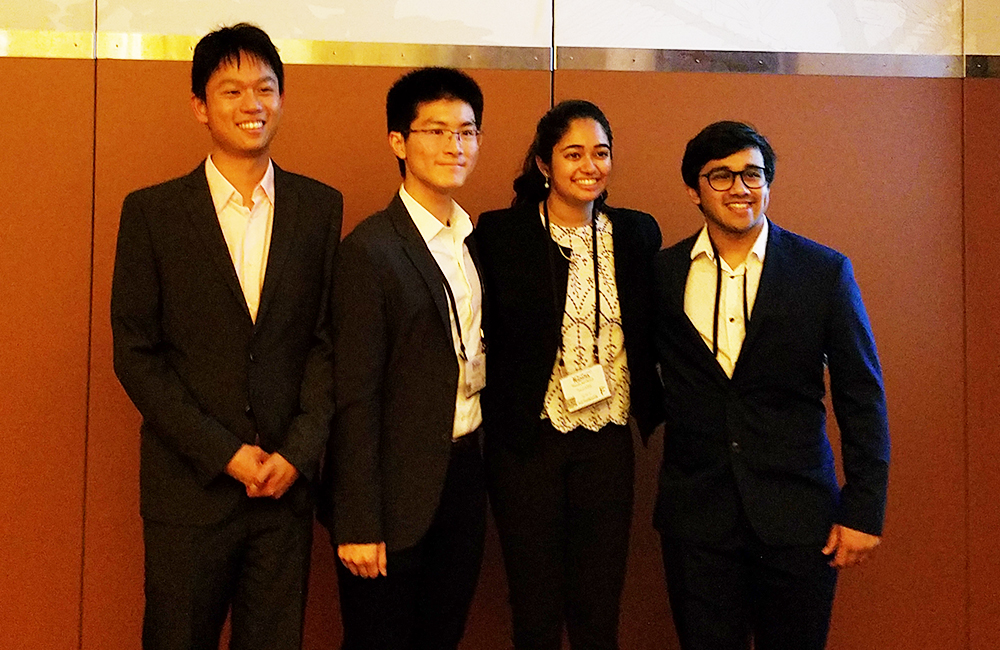 Having won top honors at the regional APICS and Deloitte Consulting-sponsored Case Competition in February, Harvey Mudd College students Bohan Gao '19, Anjaneya Malpani '18, Ramita Kondepudi '18 and Peter Leung '19 (Pitzer) traveled to Chicago last month for the final round, held during the annual APICS conference. APICS is a supply chain management and not-for-profit international education organization, offering certification programs, training tools and networking opportunities to increase workplace performance.
The team, advised by Kash Gokli, professor of manufacturing practice and Engineering Clinic director, placed third out of seven teams in the final round, behind Bradley University and Georgia Institute of Technology.
"Our team finishing in the top three reaffirms that our strong general engineering program teaches our students to be successful problem solvers in any engineering discipline," says Gokli. "When I was approached a couple of years ago by APICS, a premier supply chain association, I did not think that our students would be successful in this competition. I felt that it would be very difficult for our students to compete against the MBA students, as well as master's and bachelor's supply chain students.
"But, I was surprised," Gokli says. "In 2017, our team participated for the first time and won the West Coast Case Competition. History repeated in 2018. Our team won the West Coast competition again and then qualified to compete in Chicago for the global competition. I was very proud of the team when they came in third place at the global competition, beating about 200 teams overall."
The final-round assignment was to evaluate the pros and cons of a potential merger between two fashion companies that produce retail handbags, footwear and accessories. Teams considered factors like the companies' supplier costs, warehouse locations, inventory levels, transportation strategies and carrier costs to develop their recommendations.
"The greatest challenge we faced was data visualization and presentation," says Gao. "There are two rounds in the global final. In the first round, we had very little time at the end to visualize the data in a way that added to our narration. Fortunately, we did well enough to secure a top-three finish and qualify for the second round. In the second round, we were given an additional hour to polish our slides, and we did a lot better on data visualization then. Our Harvey Mudd education taught us how to analyze data well, but we are not as comfortable presenting data in a way that appeals to non-STEM people, so it takes us some time to translate data into visualization."
"Waiting to present in front of the judges and thinking about other, extremely qualified teams going ahead of us was quite challenging," says Kondepudi. "Distilling all the information into a few slides and a presentation under 10 minutes was challenging, too. There were a lot of moving parts that we had to manage."
Any problems the team may have had with data translation and presentation seem to have disappeared by the final round. "Our students gained a lot of confidence," says Gokli. "They have shown that they can compete with any college and any country out there. They were able to successfully analyze the data, make sound decisions, provide strong solutions, and then present and defend their decisions very effectively—a secret of their success."