Harvey Mudd Alumnae Compete in 42nd Air Race Classic
June 15, 2018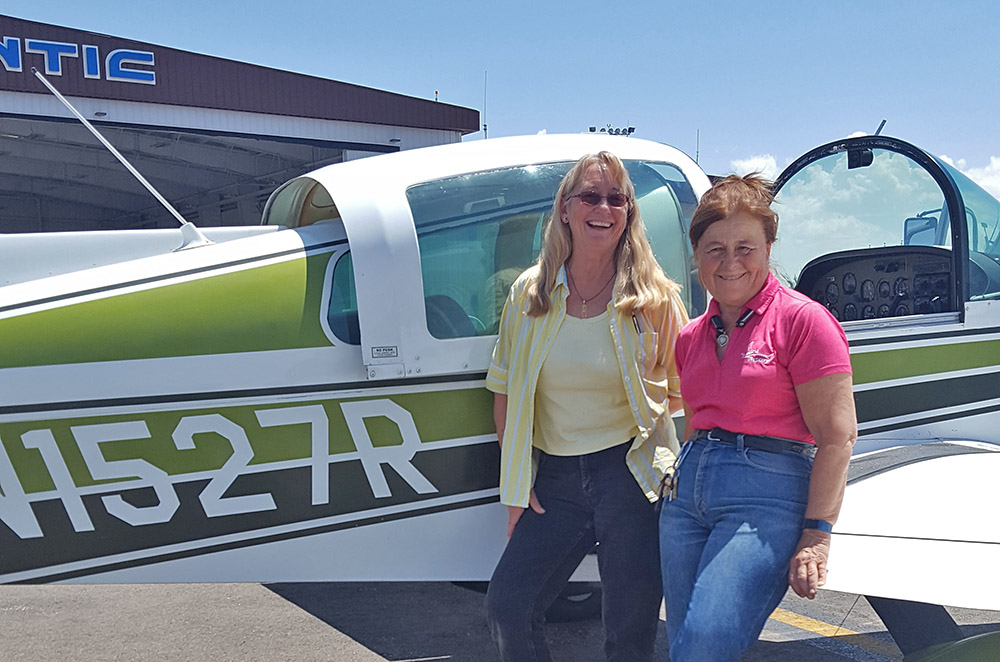 Harvey Mudd College physics alumnae Barbara Filkins '75 and Nancy Smith '76 are competing in the 42nd Air Race Classic, the annual all-women, cross-country airplane race, to raise money to support the College's Iris and Howard Critchell Aeronautical Annual Scholarship.
Filkins and Smith are graduates of the former Bates Aeronautics Program, which Iris and Howard (aka "Critch") Critchell helped launch at Harvey Mudd College in 1962 to enhance the education of young people in aviation-related fields. The program complemented the technical skills taught to HMC students through the demanding conditions of an airplane cockpit, teaching "Batesers" life and leadership skills, instilling a strong sense of responsibility and self-reliance. Alumni of the program include distinguished scientists, business leaders, entrepreneurs, aerospace engineers and two astronauts: Stan Love '87 and George "Pinky" Nelson '72.
Filkins, a Bates instructor for 10 years and a certified flight instructor with multi-engine commercial and instructor ratings as well as a "strong taste for aerobatics," credits the program with giving her a solid foundation on which to succeed and grow.
"I have matured into an internationally known industry analyst in the cyber security space where I continually see the need for the leadership that the Bates Program provided," Filkins said. "That's why the crazy idea to fly this race for the Critchell scholarship came to be."
The Flying Tigresses, sponsored by the Harvey Mudd Alumni Association, will be among 56 teams consisting of 121 women pilots from around the world who will hopscotch 2,656 miles across 15 states making eight intermediate stops along the way. At each stop, teams will execute high-speed flybys over a time line as they race against the clock. Teams depart from Sweetwater, Texas, June 19 and will finish the race in Fryeburg, Maine, June 22.
Smith, a retired environmental engineer, sea plane enthusiast and flight instructor who is now on the faculty of Lake Superior College's Center for Advanced Aviation in Duluth, Minnesota, credits the Bates program with helping her learn to be independent. In an essay prepared for the Air Race Classic titled "Why I Fly," she writes that "Flying taught me to make my own decisions … I learned to collect information, choose a plan, act, then reassess if necessary. What freedom! What responsibility!"
Iris Critchell flew in World War II as a member of the Ferry Command, participated in 16 years of Transcontinental Air Races and spent 38 years teaching aeronautics and flight at three major colleges, including 35 years at Harvey Mudd as director and chief flight instructor of the Bates Program. Critch Critchell served as a pilot for four years in the Army Air Corps during World War II. After the war, Critch became a pilot for Western Airlines, a businessman and a flight instructor. He passed away in 2015 at age 95. Iris continues to assist with HMC student aero projects, advises members of the Barnstormers student club and helps curate the Aeronautical Library Special Collection at the College.
The scholarship honoring the Critchells was established in the early 1990s and continues to provide critical support to one or more talented and deserving HMC students who are passionate about aeronautics, aerospace or aviation.
Supporters of The Flying Tigresses (team #33) can follow the 42nd Air Race Classic live or via LiveATC and enter the airport/ARTCC code name to track race route stops and listen to these airports: Sweetwater, Texas (KSWW), Alva, Oklahoma (KAVK), Beatrice, Nebraska (KBIE), Faribault, Minnesota (KFBL), Galesburg, Illinois (KGBG), Auburn, Indiana (KGWB), Cadillac, Michigan (KCAD), Newark, Ohio (KVTA), Penn Yan, New York (KPEO), and Fryeburg, Maine (KIZG).
The Air Race Classic is the oldest race of its kind in the nation, tracing its roots to the 1929 Women's Air Derby, in which Amelia Earhart and 19 other female pilots raced from Santa Monica, Calif., to Cleveland, Ohio, and the 30-year-old All-Woman Transcontinental Air Race that became the Air Race Classic in 1978.
For more information, go to Air Race Classic. Follow Harvey Mudd College or the Air Race Classic on Facebook or Twitter @AuthenticARC or @harveymudd.