Chemistry Alumna Inducted into CMS Hall of Fame
November 16, 2017

Harvey Mudd College chemistry alumna Kristina Orosz '04 has been inducted into the Claremont-Mudd-Scripps (CMS) Alumni Athletic Hall of Fame, Class of 2017.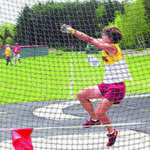 The best overall thrower the Southern California Intercollegiate Athletic Conference (SCIAC) has ever had, male or female, Orosz is the only thrower in conference history to place in all four throwing events (the shot put, discus, javelin and hammer) each of her four years as an Athena. During her track and field career, Orosz was honored as both the Harvey Mudd Alumni Association Outstanding Athlete of the Year, and voted by her teammates as the MVP while a junior and senior.
Within the SCIAC, she earned 16 All-Conference performances and four SCIAC championships, and scored the second highest number of points in Athena history in dual meets. As an NCAA competitor, she qualified for the NCAA Championships for three years (as a sophomore, junior and senior) and topped off her senior year with an All-American placement in the hammer.
After graduating from Harvey Mudd with a degree in chemistry, Orosz went into the analytical chemistry graduate program at the University of Arizona and received her PhD in 2011. She's now a senior scientist at Ventana Medical Systems Inc. in Tucson, Arizona.
Orosz attended the induction ceremony held Saturday, Nov. 11, at Claremont McKenna College's Marian Miner Cook Athenaeum. This year's class represents all three CMS colleges and the CMS head coaching ranks: Lea Crusey (CMC '03 – Women's Lacrosse), John Michael Cham-A-Koon (CMC '04 – Men's Tennis), Orosz (HMC '04 – Track and Field), Diane Noonan Eichler (SCR '90 – Women's Soccer) and Dez Farnady (Head Coach – Men's Swim and Dive/Men's Water Polo).
There are now 124 members in the Hall of Fame, and this year's class marks the 27th Hall of Fame induction class in CMS history.