Art Professor Holds Solo Exhibition
April 13, 2017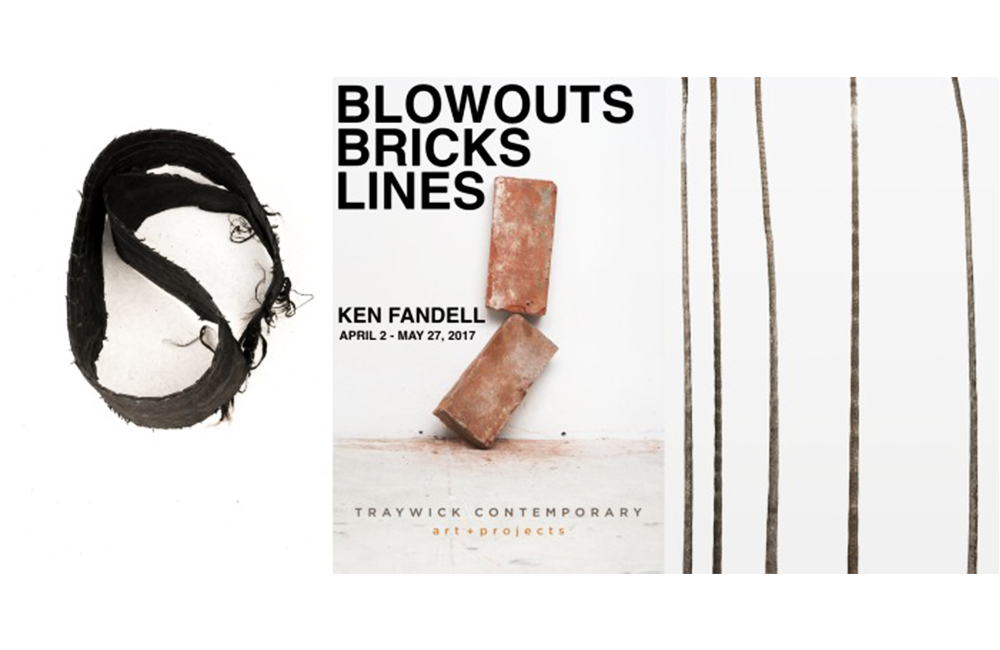 Recent work by Associate Professor of Art Ken Fandell is on display at the Traywick Contemporary in Berkeley, California. The exhibition, Blowouts Bricks Lines, runs through May 27 and is Fandell's fifth solo show at the Traywick.
Blowouts Bricks Lines is a collection of nine works comprising three series of Fandell's photographs, in which he layers multiple images of ordinary objects to produce unexpected results. In Blowouts, layered images of a twisted chunk of tire tread that Fandell removed from a Southern California freeway resemble delicate brush strokes in black ink. The Bricks series could be the most literal of the three in terms of featuring a subject recognizable as itself, except for the fact that the bricks take on varying levels of translucency and appear stacked in impossible ways. Lines features ultra-high-resolution images of palm tree trunks (just the trunk, no fronds) dissecting a background of gray sky. Traywick notes on the show point out that Fandell "mines the mundane and everyday to reveal the extraordinary in the ordinary, with a distinct blend of skepticism, irony, and humor." Indeed, there is something ironic and humorous in looking closely at a giant "painting" and discovering it's actually a photograph of blown-out tire (splayed radial wires, tread and all), something most everyone in freeway traffic has probably seen many times without noticing its beauty.
Fandell, who is on sabbatical during the 2016-17 academic year, is currently working on projects he began last summer as well as some new ones. "One involves a bee (dead) and the other involves a few pounds of clay left over from a ceramics class I took this winter," he says. He's also working on a series of artist books using material from recent projects, including his current exhibition.
Slated to teach photography in the fall, Fandell is thinking about how to approach the subject in a new way. "I want it to be more about how to make good art with the technology [the students] have and know (i.e. camera phones). I'm not sure yet how I'll do it," he says. Fandell will also be teaching Undisciplined Art, a conceptual art class that uses Marcel Duchamp's 1917 work Fountain as the jumping off point for art of the last 100 years.
Fandell will head back to the Traywick on April 23 to give a talk on his work, and he's beginning to plan a solo show at the Long Beach Museum of Art for summer 2018.