Visual Effects Work of Harvey Mudd Alumnus Earns Academy Honor
February 23, 2017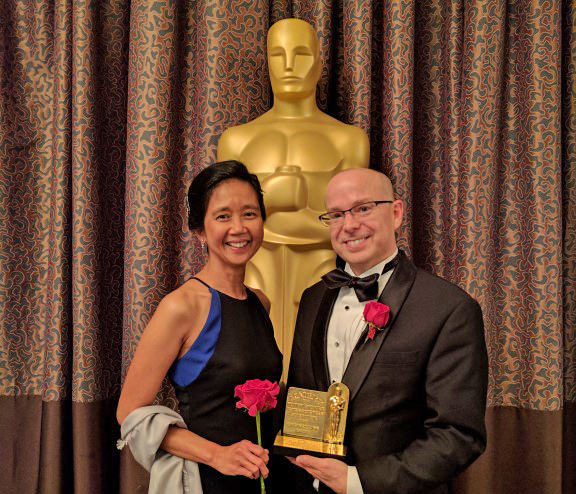 Live action movies like Edge of Tomorrow and animated features like The Smurfs all benefit from the dazzling, often mind-bending work of technical innovators like Harvey Mudd alumnus Clifford Stein '92 (computer science).
Since July 2005, Stein has worked as a software engineer at Sony Pictures Imageworks (SPI), a "for-hire" visual effects studio for feature motion pictures. He is a developer on the Arnold Renderer, a software program which takes a 3-D scene (like a virtual movie set complete with 3-D models, a virtual camera, virtual lights, etc.) and generates the images viewers see on the screen.
This software, based on Monte Carlo ray tracing and considered an industry standard, has earned accolades for its beauty and efficiency. During the Academy of Motion Picture Arts and Sciences' Scientific and Technical Awards presentation Feb. 11 at the Beverly Wilshire in Beverly Hills, the Arnold Renderer's creator and several of its co-developers were among 34 recipients and five organizations honored.
The Academy's Scientific and Engineering Award, a 24k gold plated plaque, is given for achievements that produce a definite influence on the advancement of the motion picture industry. Stein and several colleagues received the Scientific and Engineering Award for their geometry engine and novel ray-tracing algorithms as developed at Sony Pictures Imageworks and Solid Angle.
"The software was originally begun by Marcos Fajardo in the late '90s. He brought it to SPI in 2005 for the production of Monster House which is when I joined the project to help make it more 'feature-ready,'" says Stein. "Since then, Marcos returned to Spain where he founded his own company, Solid Angle, to sell his software. SPI retained a source-code license of his software, and we continue to work on our own codebase. But we still continue a friendly relationship with Marcos where we exchange ideas, algorithms, bug fixes, etc."
The work of Stein and his colleagues has been used in movies such as Alice Through the Looking Glass, Suicide Squad, Cloudy with a Chance of Meatballs, the recent Ghostbusters, Hotel Transylvania and Storks, to name a few.
Here's an excerpt from the Academy news release posted Wednesday, January 4, 2017
The Academy of Motion Picture Arts and Sciences announced today that 18 scientific and technical achievements represented by 34 individual award recipients, as well as five organizations, will be honored at its annual Scientific and Technical Awards Presentation on Saturday, February 11, 2017 at the Beverly Wilshire in Beverly Hills.
"This year we are particularly pleased to be able to honor not only a wide range of new technologies, but also the pioneering digital cinema cameras that helped facilitate the widespread conversion to electronic image capture for motion picture production," said Ray Feeney, Academy Award® recipient and chair of the Scientific and Technical Awards Committee. "With their outstanding, innovative work, these technologists, engineers and inventors have significantly expanded filmmakers' creative choices for moving image storytelling." 
Unlike other Academy Awards to be presented this year, achievements receiving Scientific and Technical Awards need not have been developed and introduced during 2016. Rather, the achievements must demonstrate a proven record of contributing significant value to the process of making motion pictures.
The Academy Awards for scientific and technical achievements [include]:
SCIENTIFIC AND ENGINEERING AWARDS (ACADEMY PLAQUES)
To Marcos Fajardo for the creative vision and original implementation of the Arnold Renderer, and to Christopher Kulla, Alan King, Thiago Ize and Clifford Stein for their highly optimized geometry engine and novel ray-tracing algorithms which unify the rendering of curves, surfaces, volumetrics and subsurface scattering as developed at Sony Pictures Imageworks and Solid Angle SL.
Arnold's scalable and memory-efficient single-pass architecture for path tracing, its authors' publication of the underlying techniques, and its broad industry acceptance were instrumental in leading a widespread adoption of fully ray-traced rendering for motion pictures.
Portions of the Scientific and Technical Awards Presentation will be included in the Oscar® telecast.
The 89th Oscars® will be held on Sunday, February 26, 2017, at the Dolby Theatre® at Hollywood & Highland Center® in Hollywood, and will be televised live on the ABC Television Network at 7 p.m. ET/4 p.m. PT. The Oscars also will be televised live in more than 225 countries and territories worldwide.
Watch a clip of Stein and colleagues receiving the Scientific and Engineering Award