Harvey Mudd Athletes Earn Honors, Set Pool Record
January 31, 2017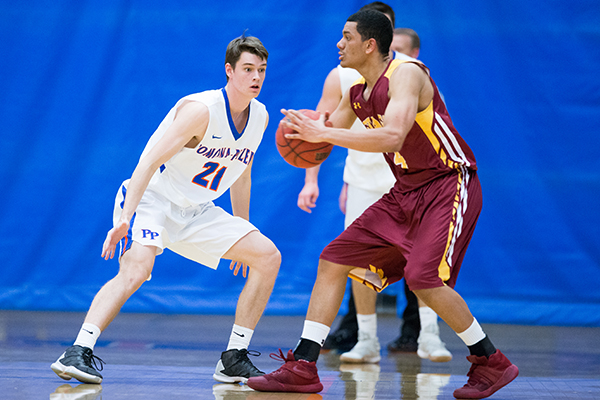 Harvey Mudd College athletes are posting standout performances as evidenced by yet another Mudder being named Claremont-Mudd-Scripps (CMS) Athlete of the Week. This is the second straight week and the fourth time this school year for a Mudder to win this honor.
CMS Athlete of the Week (Jan. 30–Feb. 5)

The honoree this week is Miles President '20—the third first-year student to be recognized—who played a major role in the men's basketball team's recent victories. In last Thursday's game against La Verne, President scored 11 points, including an and-one layup off a steal that sparked the Stags to a hard-earned victory. The first-year guard had the best night of his career in his first-ever Sixth Street Rivalry game, scoring a season-high 18 points against Pomona-Pitzer to lead the Stags to a 73–67 victory. President went 4-for-5 from the 3-point line and recorded a steal that night. President is the only first-year starter on the team and is averaging 8.3 points per game and shooting 42.9 percent from the 3-point line.

For the week Jan. 16–22, first-year swimmer Ivy Chen was named CMS Athlete of the Week. Chen helped CMS defeat Division I Loyola Marymount for the first time in program history. She played a key role in the Athenas' 163-98 victory, earning points in each of her four events. CMS went one-two in the 200-yard medley relay; Chen swam the first leg of the second-place team (1:50.43) that finished a mere 1.34 seconds behind the Athenas' "A" relay team. Then, Chen went on to be the sole Athena to win two individual events: the 100-yard backstroke (59.08) and 200-yard backstroke (2:08.58). She wrapped up the meet with a second-place finish in the 200-yard individual medley (2:13.40), only behind teammate and 2016 SCIAC champion in the event, Stephanie Doi. Chen was also selected as the SCIAC's Women's Swim & Dive Athlete of the Week (Carli Lessard '17 also received this honor for the week of Jan. 17 for setting a pool record with her score of 301.25 in 3-meter diving).


During fall, first-year Garrett Cheadle (football) and junior chemistry major Jacey Coniff (soccer) earned Athlete of the Week honors. Cheadle had an historic performance against Occidental College in October. The running back broke the school record for rushing touchdowns in a game after finding the end zone five times en route to a 45-28 victory. The previous record was set by Chris Dabrow (4; 9/20/86 and 11/01/86) and Mudder Steve Endemano '71 (4; 10/04/69). Coniff, who was also named SCIAC Athlete of the Week (Sept. 26), was recognized for her defensive skills and for her pivotal role in helping the CMS women's soccer team go on a three-game shutout streak, with five shutouts overall during the season.
Mudder sets pool record
Mudders contributed to a record-setting swim meet against Cal Lutheran and Caltech Jan. 27.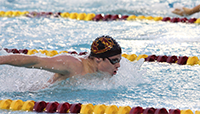 In the 1650-yard freestyle race, sophomore Aaron Lutzker (shown) won his race and established a pool record—one of three set at the meet—in the 100-yard breaststroke (57.72). More standout performances were delivered by senior Carli Lessard on the 3-meter board (first place, 288.40) and junior Grant Murray on the 1-meter board (second place, 141.55). An all-Mudder 200-yard medley relay team consisting of Murray, Dave Makhervaks '20, William Meng '20 and Jackson Crewe '19 placed first (1:35.49). Meng and Crewe helped the Stags earn a one-second victory over Cal Lutheran in the 200 free relay. Ivy Chen '20 swam to victory in the 200-yard medley relay and in the 100 fly (58.70). First-year Henry Limm owned the fastest time in the 200 IM (1:55:92)
Both the Stags and Athenas swimming and diving teams remain unbeaten in SCIAC competition coming into the final meet against Pomona-Pitzer next weekend.