Green Design of Harvey Mudd Residence Hall Merits LEED Silver
October 7, 2016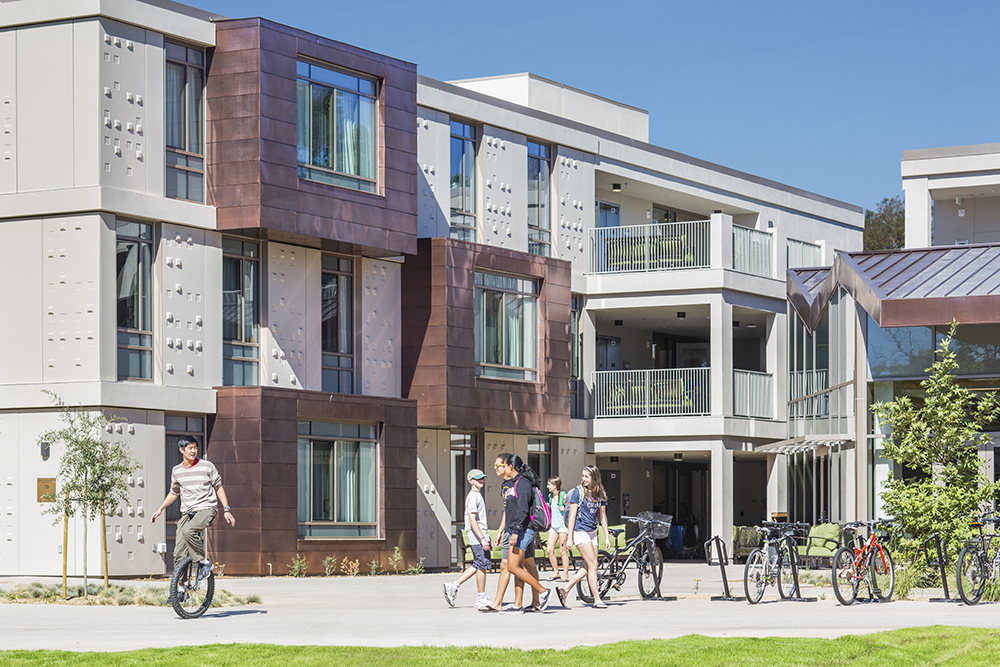 The Wayne and Julie Drinkward Residence Hall, which opened last year, is the fourth Harvey Mudd College building to earn LEED certification by the U.S. Green Building Council for energy efficiency and environmentally sensitive design.
In keeping with the College's strategic vision to embrace sustainability, Drinkward Residence Hall was recognized for stormwater collection and recharging of ground water; 50 percent reduction in landscape water use; 48 percent reduction in building water use; optimizing building energy performance by 30 percent; power generation from green power through the use of credits and offsets; recycling 75 percent of construction waste, and building-wide use of low-emitting materials.
The residence hall, which can house about 130 students and is the largest and tallest dorm on campus, also earned points for "innovation and exemplary performance" for including Greenguard-certified furniture made from recycled furniture components, employing a campus-wide green cleaning program and for having a LEED-accredited professional on staff.
The LEED (Leadership in Energy and Environmental Design) rating system is designed to encourage sustainable construction and operational practices among builders and building owners/operators. Projects can earn up to 100 points and certification levels are: Certified, Silver, Gold and Platinum.
Drinkward Residence Hall was LEED Silver certified as was the Frederick ('64) and Susan Sontag Residence Hall and the Hoch-Shanahan Dining Commons. The R. Michael Shanahan Center for Teaching and Learning was the first campus building to earn LEED Gold status.
Harvey Mudd's ninth residence hall was named in honor of Wayne Drinkward '73—board chair, alumnus and donor—and his wife, Julie, who have been stalwart supporters of the College and its mission. In addition to providing the lead gift for the new dorm, the couple provided significant support toward the construction of the R. Michael Shanahan Center for Teaching and Learning.