Katie Ray Named to CMS Alumni Association Athletics Hall of Fame
August 26, 2016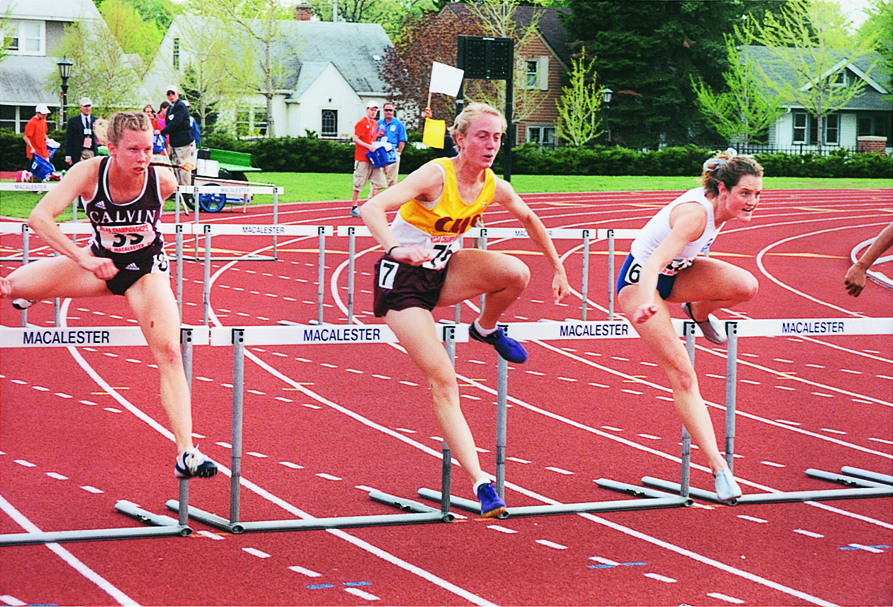 Harvey Mudd College alumna Katie Ray '02 (pictured, center) has been inducted into the Claremont-Mudd-Scripps (CMS) Alumni Athletic Hall of Fame, Class of 2016.
Ray, a four-year member of the track and field team, twice earned HMC Athlete of the Year in 2001 and 2002 as a junior and senior. Also in 2002, she was the Southern California Intercollegiate Athletic Conference and National Collegiate Athletic Association West Region Athlete of the Year.
While at Harvey Mudd, Ray became an NCAA All-American in three events: the heptathlon (second), 100 hurdles (fourth) and 4×100 relay (seventh). Ray ran the anchor on the 4×100 relay, which set a SCIAC record of 47.30 and placed fourth at the NCAA Championships. Her best time in the 100 hurdles (14.40) was the second-fastest time in SCIAC history and her best mark in the heptathlon (4,733) was fourth-best in SCIAC history upon graduation.
"What I most enjoyed about competing for CMS was the friendships I made and the camaraderie with my fellow athletes, some of whom I still keep in regular contact with," Ray says. "It was also nice to take the opportunity to get away from the academics to de-stress in a way that was healthy and effective."
Ray says she sometimes struggled to find a balance between sports and academics.
"However, competing in track was also a great source of stress relief and made it easier to push through particularly difficult classes and assignments," she says. "It also probably made me more disciplined: I knew I had to complete my assignments sooner and plan ahead more to account for practice time and competition time."
Ray says she appreciated all of the coaches she interacted with through the CMS athletic program and is glad that she had the opportunity to work with them. Even so, her favorite coaches will always be her father (a high jumper) and her uncle (a high school record-holder in the hurdles), who came to her high school track practices at least once a week to give her extra help.
After graduating from Harvey Mudd with a degree in mathematics and computer science, Ray earned a master's degree from New Mexico State and a PhD from the University of Oregon. She also served two tours of duty in Afghanistan working for the Department of Defense (DOD) on computer and network security. She works as a mathematician for the DOD and is a part-time employee at Ionic Security.
A resident of Odenton, Maryland, Ray is active in her church, works on staying in shape and volunteers as a firefighter/EMT.