Design Innovator to Lead New Center for Collaborative Creativity
April 4, 2016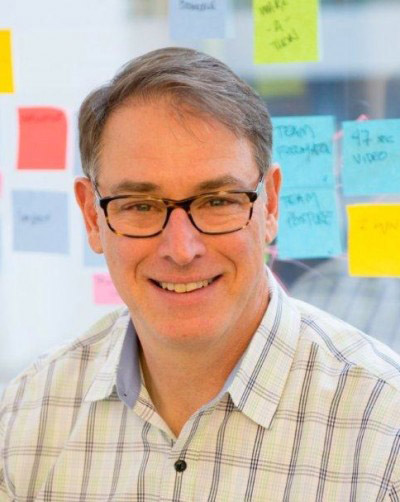 Bringing dynamic experience in fields ranging from higher education to technology, Frederick S. Leichter, a key design innovator and executive for Fidelity Investments, has been selected as the founding director of The Claremont Colleges' Rick and Susan Sontag Center for Collaborative Creativity.
Known as "the Hive," the center officially opened in September 2015 as a place where students can form creative teams, be intellectually daring and work collaboratively to address complex challenges. It serves the five undergraduate Claremont Colleges: Pomona, Scripps, Claremont McKenna, Harvey Mudd and Pitzer.
Pomona College President David Oxtoby said Leichter was chosen for his leadership skills, team-building experience and track record of design innovation. "We are looking to Fred to help spark an environment where students push into new areas, look at problems in fresh ways and seek out surprising solutions."
As senior vice president for design thinking and innovation at Boston-based Fidelity, Leichter leads teams to focus on user needs and to experiment for faster innovation. He created a lean, start-up style incubator function within the larger financial company to help bring new ideas forward more quickly, and he initiated intercompany collaboration among design thinking teams from JetBlue, Nordstrom, Kaiser Permanente and others.
Along with his Fidelity role, Leichter is currently serving as a lecturer at Stanford University's Hasso Plattner Institute of Design (the d.school), teaching such classes as Designing with Data, Visual Thinking Strategies and Project Joy: Designing Delight into the Workplace. His founding director role at the Hive also includes a faculty appointment as clinical professor of engineering at Harvey Mudd College.
"Fred's expertise in design thinking will be invaluable to the Center and his passion for building innovative teams will strengthen its mission to nurture collaborative creativity across The Claremont Colleges," said Maria Klawe, president of Harvey Mudd College. "It will be exciting to see what new approaches and solutions develop as students, faculty and staff with interdisciplinary backgrounds and interests collaborate to develop ideas and tackle problems."
A semester exchange student at Pomona College during his undergraduate years at Swarthmore, Leichter looks forward to returning to Claremont's unique grouping of small liberal arts institutions, a setting he considers ideal for creative development.
"The Hive will be a place where students can find big, ambiguous, human problems and then work together on these problems in small teams across disciplines. They will learn and live the mindsets of design thinking, becoming the creative leaders and doers of the future. I can't wait!"
Leichter earned his B.A. in mathematics from Swarthmore College. It was his experience teaching at Stanford's d.school, where he also served as a fellow from 2013–2014, that helped spur his interest in directing the Hive.
"During the search process we had a chance to see Fred teach and engage with faculty and students," said Ronnie Brosterman, professor of dance and chair of the Dance Department at Scripps College. "I'm thrilled that he has accepted this position because I'm confident he will help foster a creative community at the Hive that encourages real change and innovation."
The Rick and Susan Sontag Center for Collaborative Creativity, also known as the Hive, opened in September 2015. Its purpose is to accelerate the creative development of students and to equip them to work collaboratively to address the future's most ambiguous problems and complex challenges. A landmark $25 million gift from Rick Sontag, a 1964 graduate of Harvey Mudd College, and his wife, Susan Sontag, a 1964 graduate of Pomona College, made the center possible.