Marino Earns Scholarship to Study Abroad in UK
January 28, 2016
Cheese is a big part of the diet in the U.K., where Andrew Marino '17 is studying abroad during the spring semester. This is a happy circumstance for the president of the Harvey Mudd College cheese club, cheeseSHMC, whose members learn about a variety of cheeses from all over the world.
But Marino, an engineering major, is not in the U.K. just to try the cheese. In addition to attending meetings of the cheese society at Queen Mary University of London, he is taking courses in control systems analysis and design, analogue electronic systems, and local architecture and is traveling throughout Europe, courtesy of the First Generation College Student Scholarship Program. Provided by The Institute for Study Abroad, Butler University (IFSA-Butler), the program seeks to increase participation in education abroad for first-generation college students, who have some of the lowest study abroad participation rates among U.S. undergraduates.
Marino has been an active member of the Harvey Mudd community, participating in a variety of on-campus jobs and leadership positions, including serving as a mentor and peer academic liaison of his dorm (Wayne and Julie Drinkward Residence Hall), as a wellness peer educator and as an Honor Board member. He recently served as head mentor for the Summer Institute, a program aimed at easing the transition of underrepresented students into the College, which he participated in as a first year. Upon his return to campus, Marino will take on the role of president of The Claremont Colleges chapter of SACNAS (Society for Advancement of Chicanos/Hispanics and Native Americans in Science), an organization consisting of many first-generation students.
"I love the feeling of getting involved in my community and seeing what I can contribute and, even better, what I can learn," he shared in his scholarship essay.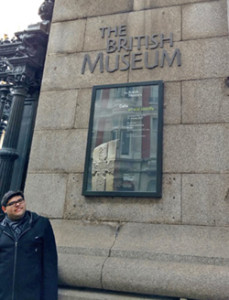 "Studying abroad will provide me with yet another layer of context and perspective to relate to people," he said. "I strongly believe that this experience will polish my skills, continue challenging my core beliefs and give me more relationships to support me. … I truly believe that Queen Mary University will help me grow and fulfill all my goals as well as give me the skills to explore other parts of Europe and bring back all those experiences to my community."
This community connection continues to drive Marino's involvement on campus and abroad. Not to mention the cheese society, he's joined Queen Mary groups in law, history and LGBT issues. "Whether it's networking, asking professors for help, making a support system to bolster one's emotional and social wellness—the biggest asset for a college student, especially a first-generation student, is the people around them," said Marino.
Harvey Mudd College, a leader in science, mathematics and engineering education, has an ongoing mission to provide its students with a rich background in the humanities and social sciences. Studying abroad allows its students to continue their education while absorbing the rich culture of another country. Marino is part of the record number of Harvey Mudd students studying abroad this spring.