Pitching Ace Brian Zinda '97 Gets CMS Hall of Fame Nod
September 29, 2015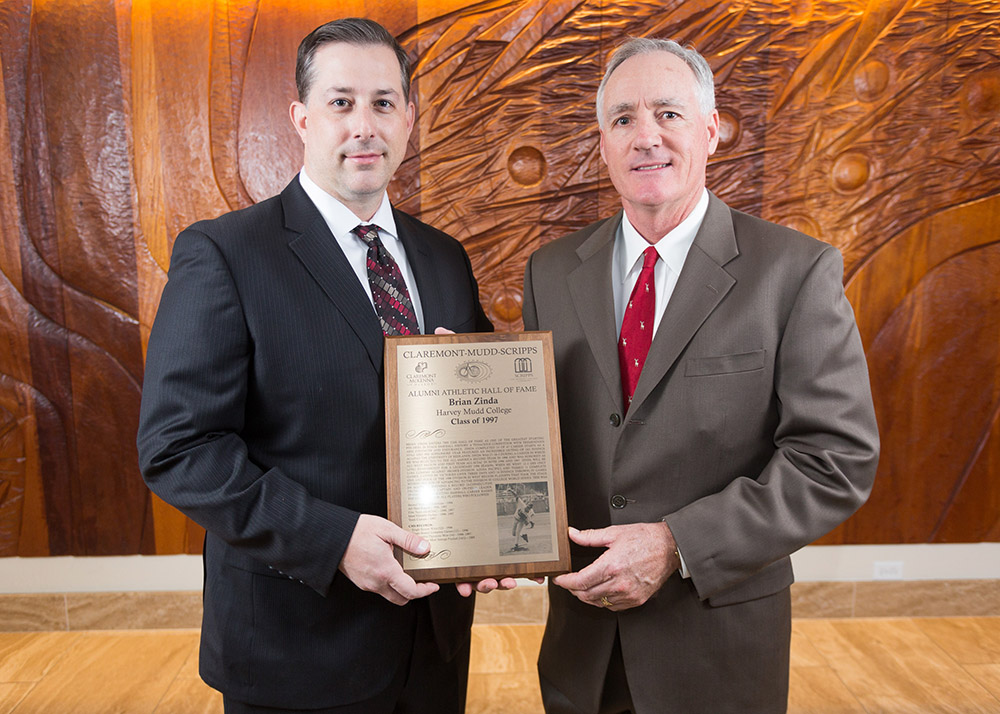 A "complete" game of baseball—recorded when a starting pitcher closes a game without the help of a relief pitcher—made up just 2.4 percent of all major league games played in the 2014 season, according to Baseball-Reference. In 1996, as a pitcher for Claremont-Mudd Scripps (CMS) baseball, Brian Zinda '97 pitched 11 complete games out of 13 starts (84.6 percent).
CMS Athletics will honor this accomplishment and more when it inducts Zinda into its Hall of Fame this fall. The two-time first-team All-Southern California Intercollegiate Athletic Conference (SCIAC) recipient (1996 and 1997) had a dominant four-year tenure on the mound for the Stags, posting 27 wins overall and setting CMS records for regular season wins and complete games.
Zinda was an All-American and Team Most Valuable Pitcher (1996), a two-time All-Region selection (1996 and 1997) and team captain (1997) over a career that included 47 starts and 23 complete games. Among other notable accomplishments, Zinda led the Stags to a pair of wins over Cal Lutheran in the 1996 playoffs. From 1996 to 1997, he won a CMS record 14-straight decisions, and he once pitched 14 1/3 innings in a single game against University of Redlands.
"Brian was a starting pitcher from day one," wrote former CMS head baseball coach/athletic director and nominator Bill Arce. "He was the classic 'bull dog' on the mound. He threw a heavy ball will deceptive movement and had incredible endurance in his arm that allowed him to complete almost half the games he started."
A tenacious competitor who "wanted the ball and did not want to give it up," says Arce, Zinda logged an especially remarkable performance his junior year (1996), going a record 12–1 on the mound, including the 11 complete games.
"He was a big reason why we took Cal Lutheran to a fifth game in the regional," says Arce. "His 27–16–1 overall record typifies what he meant to our teams in the mid-'90s. Back then we could always count on Brian to give us a strong outing and usually ended up with a win. He was a difference maker and set the bar high for pitching prospects for many years to come."
Former head coach Randy Town, a 27-year veteran of CMS Baseball, remembers Zinda as a great teammate who is extremely humble.
"He was everything and more than the statistics," says Town, who coached Zinda over four seasons. "He went about his business and, win or lose (and there was not much of that), he had the same demeanor. He had a knack for throwing a 'heavy fast ball'—a difficult phenomenon to describe, but one that had many a batter returning to the dugout shaking his head."
Zinda earned a bachelor's degree in engineering, receiving dean's list honors three times. After leaving Mudd, Zinda worked as a systems engineer on communications satellites for Northrop Grumman before transferring within the company to a location in Northern England in 2007, where he and his wife enjoyed travel, and he picked up baseball again for the first time since college. "It was fun to discover I still had the ability to be competitive on the mound, but the arm and shoulder needed a lot more time to recover before starts," he says.
Upon returning to the United States in 2013, Zinda found systems engineering work with Northstrat Inc., a small Virginia company specializing in software applications that use advanced development technologies and platforms for the intelligence community. He lives with his family—including a daughter and a son on the way—in the suburbs of Washington, D.C. He calls the Hall of Fame induction a great honor.
"It is especially exciting for me and my entire family, since I will be joining my uncle, John Zinda," says Brian. The late John Zinda, for whom the CMS Zinda Award is named, was inducted in 1995 in recognition of his work as CMS head football coach and athletic director.
"I have nothing but fond memories of my time at Mudd and playing baseball," he says. "Some of those guys were the best players I have ever had the honor of playing with. I also have a lot of gratitude for our coach at the time, Randy Town. He understood we were students first and always worked with me around my busy engineering curriculum at Mudd."
Zinda and four other CMS alumni will be inducted during CMS' annual Hall of Fame Banquet, which will be held at the Marian Miner Cook Athenaeum at Claremont McKenna College on Saturday, Nov. 14.