Student Affairs Suite Dedicated to Hotchkiss
August 21, 2015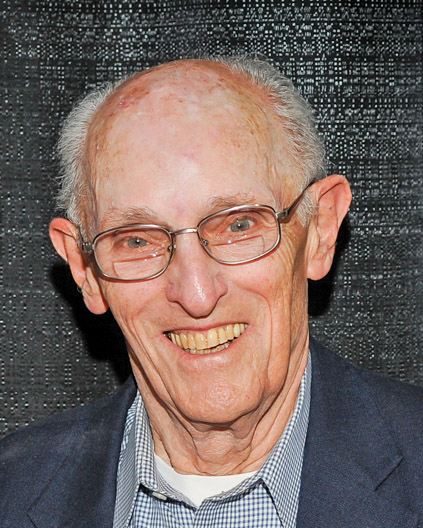 The Harvey Mudd College community honored its first and only dean of the College and its first full-time dean of students, Eugene Hotchkiss III (known as "Dean Gene"), during Alumni Weekend in May. As a result of a generous gift from the Barretts—Pat '66 and Penny '67—the Division of Student Affairs office suite within the Joseph B. Platt Campus Center was renamed in honor of Eugene and his late wife, Suzanne T. Hotchkiss, in recognition of their dedication to Harvey Mudd College and their service to students. Pat credits Dean Gene with "laying the foundation" for student affairs at Harvey Mudd.
"HMC was like a family in the early days," says Pat, a student during Hotchkiss' tenure. "It was not a big place, it was easy to know everyone. Gene and Sue, to me, certainly contributed to that sense of family. There was a sense of joy, humor, and a strong interest in the students."
In addition to the Barretts, members of the Hotchkiss family were in attendance at the dedication, including Gene's brother Frank Hotchkiss and daughter Ellen Hotchkiss Rainey, as well as several of Gene's former Harvey Mudd colleagues and Harvey Mudd alumni. Hotchkiss joined the College in February 1960 as dean of students before being appointed dean of the College in 1962, a position he held until 1968.
In his book Harvey Mudd College: The First Twenty Years, Founding President Joseph B. Platt lauded Hotchkiss: "I believe the many students and faculty whose trust he won and whose friendship he won join me in thanking Gene and Sue … for their years at Harvey Mudd."
The Hotchkisses left Harvey Mudd in 1968 when Gene became provost at Chatham College. Hotchkiss was then appointed president of Lake Forest College in 1970 and served in that role for 23 years, retiring as president emeritus in 1993.