Harvey Mudd Confers Degrees at Commencement 2015
May 21, 2015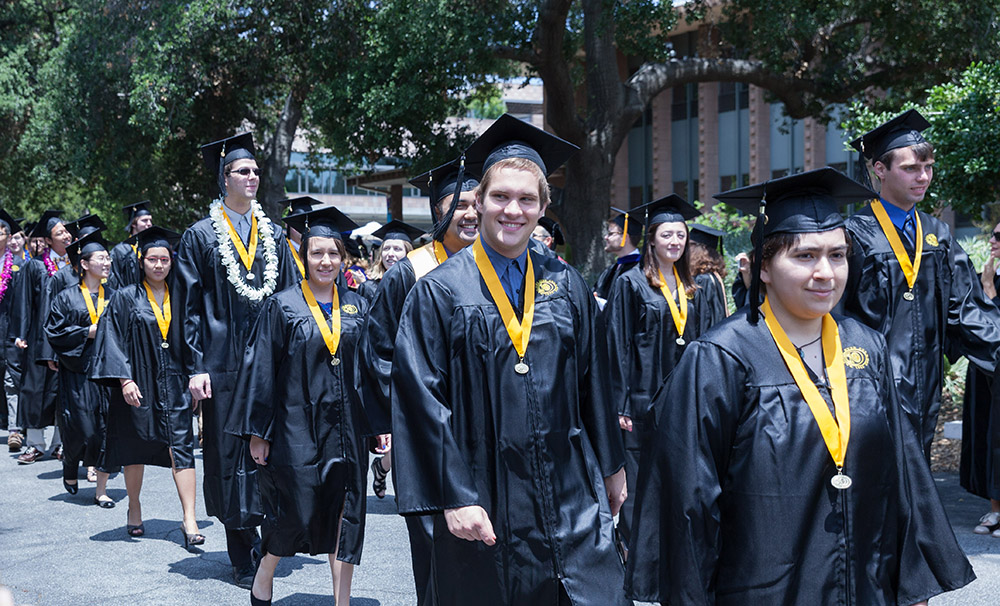 Harvey Mudd College, the premier liberal arts college of engineering, science and mathematics, conferred bachelor of science degrees upon 170 students at its 57th commencement ceremony, May 17, 2015, in Claremont, California.
Mary Nichols, chairman of the California Air Resources Board, gave the commencement address. Nichols oversees the implementation of California's landmark greenhouse gas emissions legislation as well as other initiatives to improve air quality and fight climate change. She leads the board to set air pollution standards for motor vehicles, fuels and consumer products, and has put in place innovative rules and regulations to cut GHG emissions and drive investment in cleaner, more efficient technologies.
Nichols urged the graduates to apply their education toward fighting climate change and creating a more sustainable world.
"You've worked hard to get here today, and you deserve to get a little bit of a break and kick back," Nichols said. "But not for too long, because I'm here to tell you that there's a lot more to be done, and we need you to help do it. We need to immediately and significantly change the way we generate and use energy and the ways we manage or build our natural environments," she said.
"You are problem solvers," Nichols told the class of 2015. "People who approach life from the perspective that they will find a solution, that there is a solution. … If they don't say 'it can't be done' but say 'there's a solution, we just have to look at this in a different way'—this is what it's going to take to get us through."
Graduating senior Cindy Angpraseuth, an engineering major, thanked the faculty and staff for their dedication to helping students learn and grow, inside and outside the classroom. She also thanked the students for their camaraderie and support.
"Ever since the day I visited as a shiny prospective student, I knew that I wanted to be surrounded by Mudders, and they haven't disappointed me," Angpraseuth told her classmates. "I wouldn't be speaking with you up here today if not for the people along the way who believed in me when I didn't believe in myself. I don't think I'll ever be able to repay the kindness and grace that has been shown to me here."
"As we all go on to the next chapter of our lives we're going to be freshmen again," Angpraseuth said. "We'll be doing something new, starting with a clean slate. This is the commencement of the rest of our lives. Remember those new shiny feelings when they happen. It'll be easy to go forward and get jaded again in a few years, but what kind of life is that? When things look dark, just remember, keep calm and stay shiny."
Jerry Van Hecke '61 welcomed the graduates into the HMC Alumni Association. "In a few minutes, you will be leaving the campus and will move on to what our Founding President Joe Platt often described as the dangerous territory of making something of yourself," Van Hecke said. "From my experience with fellow alums, I know you will."
President Maria Klawe was the final speaker of the day. "Your development has been the primary focus for the past four years of all of our wonderful faculty and staff, and we're deeply proud of what you, the class of 2015, have achieved," Klawe told the graduates.
"Members of your class have been recognized by the National Science Foundation, the U.S. Department of Homeland Security, the William Lowell Putnam Mathematical Competition, the Thomas J. Watson Fellowship, the Computing Research Association and the Mathematical Association of America, just to name a few," Klawe said. "These notable awards are balanced by the countless daily examples of extraordinary generosity, kindness, creativity and service you've displayed to each other, to your fellow classes at Harvey Mudd and to the community around us. Thank you."