Trustee Emeritus, Former Chair E.H. "Hubie" Clark Dies
May 1, 2015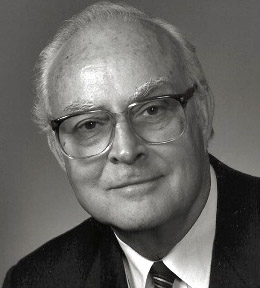 The Harvey Mudd College community mourns the passing of Earnest Hubert "E.H." Clark Jr., who died on April 24. Clark actively served on the Harvey Mudd College Board of Trustees from 1971 until his appointment to emeritus trustee in 2008, providing support and wise counsel to all five of Harvey Mudd College's presidents.
Known to friends and associates as "Hubie," Clark served as the third chair of the board of Harvey Mudd College from 1981 to 1988. His first question upon accepting the chairmanship was, "What do we need to do to make the College better?" The next seven years were spent addressing that question, and the College thrived under his leadership. During Clark's time as chair, the board helped steer the College as it launched a capital campaign and significantly increased the endowment, added the biology major, constructed two residence halls (J.L. Atwood and Case) and acquired land. Before leading the board, Clark chaired the Academic Planning and Student Affairs committees and was an HMC Founding Friend.
Clark, a graduate of Caltech, was attracted to working with Harvey Mudd College because he believed in the importance of education beyond the diploma; more specifically, he praised the College's unique hands-on engineering program. While on the board, Clark was instrumental in facilitating relationships with industry, including the relationship between Harvey Mudd College and the R.C. Baker Foundation.
Clark's generous financial contributions to the College include funding for the R.C. Baker Foundation Annual Scholarship, the Hubie and Patty Clark Annual Scholarship, the Hubie and Patty Clark Summer Research Fellowship, funds for a building addition to the Parsons Engineering Building, and a machine shop renovation grant. In honor of Clark's longtime dedication to the College, fellow trustee emeritus Carl Robertson established the E.H. Clark Jr. Endowed Scholarship for Academic Excellence and Leadership, a scholarship awarded to one or more students in their junior or senior year who excel academically in addition to serving as outstanding campus leaders.
In 2006, Clark became just the ninth person in HMC history to be awarded an honorary doctor of engineering degree. For his extraordinary service to Harvey Mudd, he also received the College's Lifetime Recognition Award.
Early Career
Upon graduating from Caltech, Clark began work as a mechanical engineer with Baker International in 1947, where he would spend his entire career. During his early years, Clark worked closely in product development with company founder R.C. Baker, for whom the Harvey Mudd College Machine Shop is now named. Clark became chief research engineer in 1957, vice president and assistant general manager in 1958, president in 1962 and CEO in 1965, a position he held for 22 years.
Renowned for his dynamic and innovative management style, Clark built Baker into one of the world's leading oil field service companies. During Clark's presidency, Baker moved from $30 million in annual sales and 1,600 employees in 1962 to more than $2 billion in annual sales and 25,000 employees by the early 1980s. Clark's philosophy was one of concern for the workplace and recognition of the people who work to support it. In 1981, the Harvard Business School Association of Southern California selected Clark as Business Statesman of the Year.
Clark later went on to serve as chairman, CEO and director of The Friendship Group, an investment partnership in Newport Beach, California. He also served on the boards of Beckman Instruments, Honeywell, CBI Industries and Kerr McGee Corporation. In addition, he was past president and director of the Petroleum Equipment Supplier's Association and a past member of the National Committee on Oceans and Atmosphere.
Both Clark and his wife, Patty, were community leaders in Orange County and Los Angeles, where Clark was actively involved in the YMCA, serving as chairman of the local board and as vice chairman of the National Board of Directors.
Clark was born Sept. 8, 1926, in Birmingham, Alabama. He served active duty with the U.S. Naval Reserve between 1944 and 1946 and during the Korean War between 1951 and 1952. Clark earned B.S. and M.S. degrees in mechanical engineering (magna cum laude) from Caltech in 1947—the same year he wed Patricia Margaret Hamilton.
Clark is survived by his wife, six grown children and 12 grandchildren. The family is close-knit, and Clark was fond of organizing family reunion vacations that included scuba diving, skiing and even human relations seminars.