Critchell Inducted Into California Aviation Hall of Fame
April 24, 2015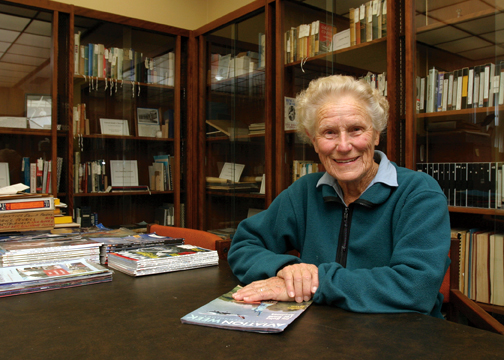 In honor of her 76 years of contributions to the aviation community, Instructor of Aeronautics Emerita Iris Cummings Critchell is one of four who will be inducted into the California Aviation Hall of Fame on April 25.
The Santa Monica-based Museum of Flying is hosting the induction of Critchell, along with Lt. Col Fitzhugh "Fitz" Fulton, Robert J. "Bob" Gilliland and Burt Rutan. Several Harvey Mudd Bates Aeronautics Program alumni will be in attendance, and Critchell will be introduced by Brenda Perez, whom she has mentored.
"I am just one of the many lucky people that were influenced by Iris' passion for and knowledge of aviation and her desire to share it with others," Perez shared in her remarks.
Walt Foley '69, an alumnus of the Bates Program and now a professional pilot, said, "I was fortunate to experience the 'privilege of flight,' a vision that Iris and her husband, Critch, nurtured over multiple decades. They challenged our young, impressionable, technical minds to assume command in balancing the demands airframe, avionics, weather, air traffic control, schedule, passenger experience and cost in safely executing a flight. My early-career success as a techy entrepreneur, and my sense of accomplishment in commanding a modern corporate jet on an around-the-world mission today, are a credit to Iris' lifelong commitment to the personal growth of so many Batesers over the decades."
The Museum of Flying established the California Aviation Hall of Fame to commemorate, preserve and educate the public on the important role that individuals played in the birth and growth of aviation and aerospace in California.
The four Hall of Famers join 10 "legacy" inductees who shaped the growth of the aviation industry in California: Pat Hyland, former president of Hughes Aircraft; John Joseph Montgomery, glider pioneer; Clifton Moore, father of Los Angeles International Airport (LAX); Robert Prescott, founder of the Flying Tiger Line; William Schoneberger, noted aviation author; Robert Six, former CEO of Continental Airlines; Bobbi Trout, record-setting and stunt aviatrix; Willis Hawkins, noted Lockheed aircraft designer; and Ralph H. Ruud, co-founder of North American Aviation.
Critchell began flying in 1939 at Mines Field (now LAX) in Piper J-2 Cub planes while a sophomore at University of Southern California. She completed Private Pilot and Advanced Acrobatic courses in Waco bi-planes in 1939 and 1940 on the first civil pilot training program at USC, where she graduated with a degree in physical sciences and mathematics in 1941.
In 1941, she was an instructor for the civil pilot training program at Brackett Field in La Verne and, in 1942, for the Navy Cadet program for Stockton Junior College at Carson City, Nevada. In December 1942, she reported to Houston for Army Air Corps training and was then assigned to the Women's Auxiliary Ferrying Squadron (WAFS), which became known as the Women Airforce Service Pilots (WASPs).
Until December 1944 she served as a civilian ferry pilot with the Army Air Corps, Air Transport Command, 6th Ferrying Group at Long Beach. During this time, Critchell ferried more than 25 types of military airplanes as pilot in command, including each of the WWII trainers, P-47 Thunderbolt, P-40 War Hawk, P-39 Air Cobra, P-51 Mustang, C-47 Transport, B-25 Mitchell, A-20 Havoc, P-38 Lightning and P-61 (the Black Widow).
From 1946 to 1948 for the University of Southern California College of Aeronautics at Santa Maria, Critchell developed the curriculum, taught the classes for Primary, Instrument, Commercial and Instructor courses and gave all the instrument flight instruction in Vultee BT-13 trainers. Beginning in 1950, she flew in the All-Woman Transcontinental Air Race (Powder Puff Derby) 15 times and placed first in two races and in the top 10 seven times.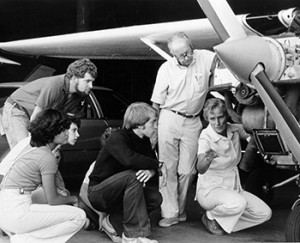 In 1961, Iris and her longtime pilot husband, Howard (a.k.a. "Critch"), were asked by Isabel Bates to establish a special aero program for the Bates Foundation for Aeronautical Education. Iris developed this unique program to use the airplane as a tool for enhancing the education of young people in junior high, high school and college. In 1962, Iris and Critch launched the Bates Aeronautics Program at Harvey Mudd College and began enrolling Harvey Mudd students.
From 1962 to 1990, Critchell served as director of the Bates Foundation's Aeronautics Program at Harvey Mudd as a faculty lecturer in aeronautics and as chief flight instructor for the flight-training phase of the program. More than just a tool for enhancing science education, the program taught student pilots responsibility and self-reliance amid the demanding conditions of an airplane cockpit. The hundreds of Harvey Mudd alumni who participated in the Bates Program while students at Harvey Mudd now include many distinguished scientists, aero engineers, aerospace researchers and two astronauts, as well as other successful business leaders and entrepreneurs.
"From the first time we met at the onset of the Bates Program 53 years ago, Iris has continued to amaze me with her vitality, energy and achievements," said Bruce Worster '64, a Bates alumnus, physicist and entrepreneur. "It is my privilege to have known and learned from her. I'm sure I can speak for all those she has worked with that this award is most appropriate for such an outstanding member of the aviation community."
After retirement, as a faculty emerita, Critchell taught aeronautics for six more semesters at Harvey Mudd and continues to assist with student aero projects and advises members of the Barnstormers student club. She also serves as curator of the Aeronautical Library Special Collection at the College.
Critchell's many honors include:
Ontario (CA) FAA District, Flight Instructor of the Year, 1972
National Association of Flight Instructors Hall of Fame, Oshkosh, Wisconsin, 2000
Wright Brothers Master Pilot Award, Federal Aviation Administration, 2006
Women in Aviation International Pioneer Hall of Fame, 2007
Honoree, USAF Air University Gathering of Eagles at Maxwell Field, 2008
Nile Gold Medal for contributions to aerospace education, Fédération Aéronautique Internationale, 2008
Honoree, Flight Path Learning Center Museum at LAX, 2013
Critchell's lifetime achievements also include swimming in the 1936 Berlin Olympics (She competed in the 200-m breaststroke and was U.S. champion in this event from 1936 to 1939.). She is a current pilot and holds many pilot ratings through Glider, Single and Multi Engine, Airline Transport and Flight Instructor ratings. She served as an FAA Designated Pilot Examiner for 21 years. Critchell has been a member of The Ninety-Nines Inc., International Organization of Women Pilots for 62 years, is a member of numerous aviation and professional organizations and is referenced in many books, oral histories and documentary productions.