Conceptual Art Installation Turning Heads
March 16, 2015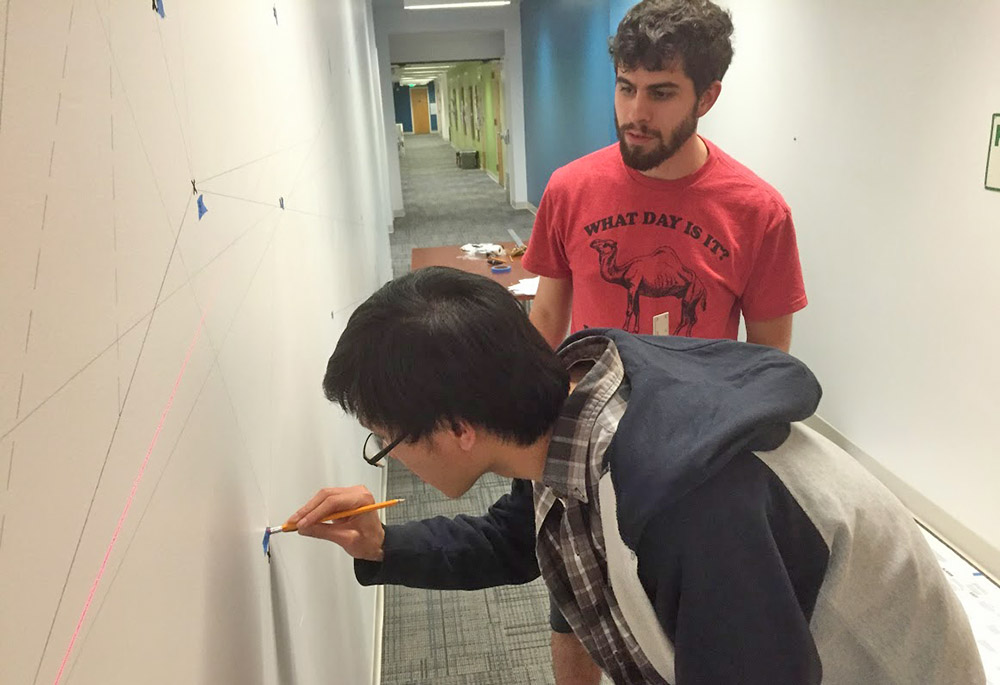 On the ground floor in the northwest corridor of Harvey Mudd College's Parsons Building, you'll find an interesting, if not puzzling, piece of art titled Wall Drawing 305.
The 9-by-28-foot area, filled with intersecting pencil-drawn lines, shapes, focal points and cryptic notes, is an example of "instruction-based art," a technique employed by conceptual artists that instructs participants to interpret and execute works based on sets of commands. With Associate Professor of Art Ken Fandell, Harvey Mudd students undertook installation of a piece created by conceptual and minimalist artist Sol LeWitt. The work consists of "one hundred random specific points," the locations of which "are determined by the drafters." Students use both rational thought and intuition to produce the artwork.
"I've always enjoyed process art," says Alejandro Frias '14, a computer science alumnus who spent many hours on the piece. "The final product isn't why I do art; it's for what I get out of the process. This piece is all process—even the thought process of the artists—and has the added draw of being very puzzle/game like. I think Mudders will enjoy the puzzle of retracing the processes involved to create this rendition."
LeWitt's works are usually sold to museums and private collectors and installed with the help of representatives of the artist's estate, but the LeWitt Foundation agreed to loan this work to the College for the students to install.
"I reached out to a curator who did a project like this with an art history class at the Middlebury College Museum of Art," says Fandell, the Michael G. and C. Jane Wilson Chair in Arts and the Humanities. "She put me in touch with Sofia LeWitt and, through conversation, we wound up being able to install this piece."
Kirklann Lau '16, another student involved in the project, says he was drawn to its collaborative and complex nature. "It was painstaking to draft the arrangement of lines. It required plenty of leveling, compasses, string, cleverness and teamwork," says Lau. "I've enjoyed working with my fellow draftsmen in both coming up with points and helping draft them."
"Standing at the end of the perpendicular hallway and watching the lines come into focus from afar as you approach it is my favorite way of experiencing the wall drawing," says Lau. "It does not outright beckon its viewers; it merely hints at a greater complexity when you're up close."