Percussion Quartet to Shake Things Up March 5
February 24, 2015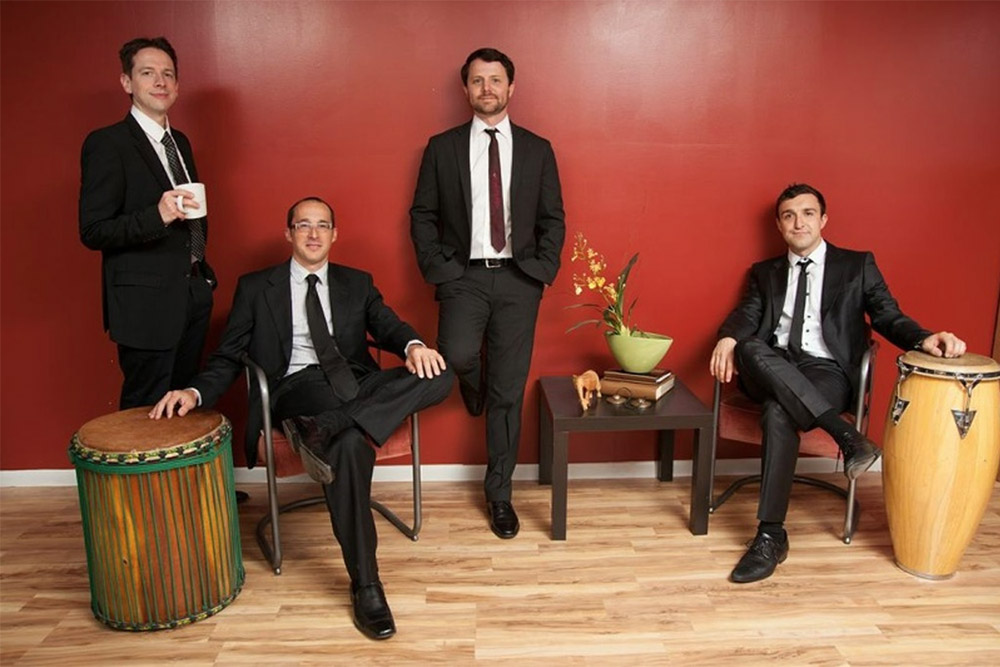 The Grammy-nominated Los Angeles Percussion Quartet is bringing its unique and innovative sound featuring a mix of old and new music from California's leading composers to Harvey Mudd College Thursday, March 5.
The performance, which begins at 8 p.m. in the Wayne '73 and Julie Drinkward Recital Hall, promises to be a highlight of HMC's annual concert series. Performances are free and open to the public.
"I can guarantee there will be sounds you've never heard before," said Bill Alves, associate professor of music at Harvey Mudd, who arranged for the quartet's appearance. "It's going to be an exhilarating and varied program."
Alves, who has known two of the players for many years, calls the group "one of the most renowned ensembles of its type."
"First of all, they bring a huge variety of instruments and also genres and influences," Alves said. "As musicians, they are as comfortable playing classical opera as they are electronic dance music."
One of Alves' compositions, "Gandrung," will be among those featured in the program. The quartet also will perform pieces by John Cage, Steve Reich and other older classical compositions.
Quartet member Cory Hills said the group's sound is different for each piece it plays.
"One piece may call for just marimbas, one may call for just drums, one for tuned bows and clay pots and miscellaneous metal objects from a scrap yard," Hills said.
The quartet's first album, "Rūpa-Khandha," won multiple nominations in the 55th Grammy Awards in 2013, including the prestigious category of Best Chamber Music/Small Ensemble Performance. Two members, Nick Terry, a Chapman University assistant music professor, and Matt Cook, who leads the Ventura College percussion program, won a Grammy earlier this year for Best Classical Compendium as part of the Partch Ensemble.
Individual members of the group are also committed to outreach and education. They offer workshops and master classes to young musicians in middle schools, high schools and universities.
Hills created the Percussive Storytelling program that has introduced classical music and storytelling to more than 25,000 children in eight countries.
The Los Angeles Percussion Quartet performance is part of the Harvey Mudd College concert series, which began last year after the Wayne '73 and Julie Drinkward Recital Hall was completed. The College invites groups from the region to perform and gives students and the community the opportunity to hear high-quality, free concerts.
Alves said the series is popular with both on-campus and off-campus communities.