Runner Tony Gnecco '89 Named to CMS Hall of Fame
August 11, 2014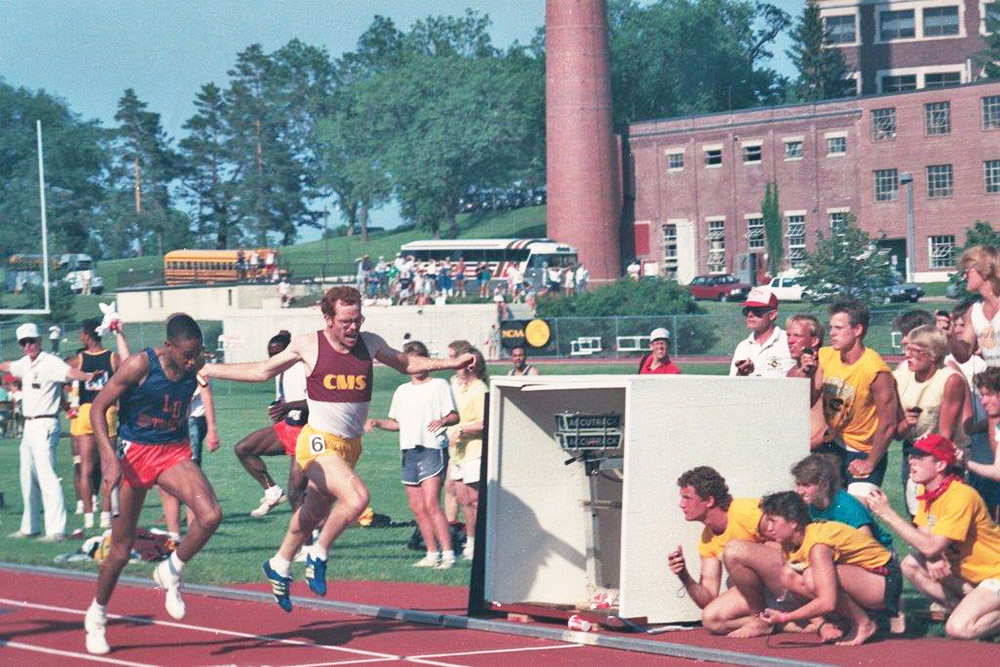 With a trademark smile, rose-tinted spectacles and a shock of curly red hair, Tony Gnecco '89—the "Red Rocket"—was known among track and field teammates for two rare talents: quiet, steady leadership and the ability to run like the wind.
Claremont-McKenna-Scripps (CMS) Athletics will recognize those talents this fall when they induct the Southern California Intercollegiate Athletic Conference (SCIAC) track and field champion into its Hall of Fame. Gnecco is the 16th Mudder to receive entry.
The anchor on the 4×400 meter relay team that qualified the Stags for the NCAA Championships three out of four straight seasons, Gnecco was named Harvey Mudd College's Athlete of the Year as a junior. He was a two-time SCIAC champion (4×400 in 1988, 400 in 1989) and a two-time All-American (4×400 in 1988 [2nd], 4×400 in 1989 [8th]).
Gnecco's individual and team performances earned him several CMS track and field records. In 1986, Gnecco set the record for first years in the 400 meter at 49.22. The relay team's 4×400 meter time from the 1988 NCAA Division III Track and Field Championships still holds at 3:12.60. Gnecco is still fifth all-time among CMS runners in the 400 meter (48.46), and the 4×400 meter teams he anchored are still first, sixth and seventh all-time (they were first, second and third when he graduated). Gnecco credits the relay team with enabling his success.
"I'm honored and humbled by the committee's decision to induct me," he says. "A majority of my success—and of my fond memories—was being part of that 4×400 meter relay team."
Head track and field coach John Goldhammer, who submitted Gnecco's nomination, says the athlete's grounded nature, humility and work ethic made him the natural heart of the Stags' championship relay teams during what he calls a "golden era" for CMS track and field.
"Tony was extremely focused," says Goldhammer. "He made every workout, was always there and improved every year, from freshman year all the way through to senior. True commitment."
Goldhammer cites the 1988 NCAA Championships—held at Carleton College in Northfield, Minnesota—as being among his fondest memories during his 30 years with CMS Athletics. Gnecco and teammates Mark Messana CMC '89, Derek Elmore CMC '89 and Kurt Hocker CMC '88 placed second nationally in the 4×400, setting the current all-time CMS record for the 4×400 relay. Goldhammer remembers the competition like it was yesterday.
"That's not a tribute to my memory, but to how hard they worked, how important it really was to them to win together," he says. "CMS has had a lot of All-Americans and national champions, but this was special. That camaraderie, the chemistry of these four guys was unique," he says. Together, they were known as "the boys." At the group's core, Gnecco brought stability to that chemistry.
Beyond the relay team, says Goldhammer, Gnecco's leadership and commitment served as examples to the entire track and field squad. In recognition, the team voted him captain for the 1987 season.
Former teammate and fellow North Hall resident Kelly Beck '90 (now CMS assistant track and field coach) also remembers Gnecco for his exemplary work ethic and leadership. During the late fall and winter months, in the lull between cross-country and track and field seasons, Gnecco organized practices to keep Beck and other teammates at the top of their game.
"He was really a cornerstone of what the track and field program has become," says Beck. "Historically, it wasn't among our most successful programs, and it definitely became so, and I think he was integral to that."
Gnecco earned his bachelor's degree in engineering and was widely involved on campus, serving as sports editor for The Muddraker and as a proctor of Marks Residence Hall (South) during his senior year. He was also involved in the campus Christian Fellowship.
After Mudd, Gnecco went on to a career in software development in Livermore, California, where he has lived for many years with his wife, son and daughter. Though his running days are behind him, he says, he coaches his daughter's soccer and track teams and frequently plays golf with his son, who is a member of the middle school squad.
"I was very blessed to have great coaches throughout my life, especially in college," says Gnecco. "I enjoy the chance to give some of that back to my kids and their teams."
Gnecco and four other CMS alumni will be inducted during CMS' annual Hall of Fame Banquet, which will be held at the Marian Miner Cook Athenaeum at Claremont McKenna College on Saturday, Nov. 8.