Alumni Pool Funds for Vital Scholarships
July 31, 2014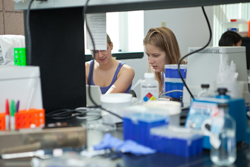 Harvey Mudd College alumni utilize their time, talent and resources to support the next generation of passionate problem solvers. Graduating classes have long supported scholarships that benefit students and honor family members, faculty or other individuals. These pooled scholarships aid in recruitment and retention and ensure that a Harvey Mudd education remains accessible to all admitted students.
The following are pooled scholarships and their recipients for the 2013-2014 academic year.
Barbara and Anthony Fallon '61 Memorial Endowed Scholarship
Sean Messenger '15
Samantha Stilson '15
Class of '61 Endowed Scholarship
Katherine Shepherd '14
Class of '63 Endowed Scholarship
Aleina Wachtel '16
Class of '64 Endowed Scholarship
Faith Lemire-Baeten '17
Class of '67 Endowed Scholarship
Sagar Batchu '15
Class of '74 Tory Davis Memorial Endowed Scholarship
Spenser Anderson '16
Class of '75 Endowed Scholarship
Emily Fischer '14
Class of 2007 Endowed Scholarship
Josephine Chen '16
Dotty and Art Campbell Endowed Scholarship
Mary May '15
Iris and Howard Critchell Aeronautical Annual Scholarship
Yeah Hong '15
Cierra Owens '14
Jean and Joe Platt Endowed Scholarship
Haley Erickson '14
Julia Lee '14
Lingxiao Yan '15
Stephanie Zellner '15
Ron and Lee Vaughan Memorial Endowed Scholarship
Justin Bai '15
Samuel Delich '62 Memorial Endowed Scholarship
Raymond Hurwitz '14
Increasing the number of annually funded and endowed scholarships is a priority of the $150 million Campaign for Harvey Mudd College.