Robots Invade Harvey Mudd at FIRST Robotics Scrimmage
February 11, 2014
Interest was so great among high schools competing in the FIRST Robotics Scrimmage hosted by the FIRST Mentors Club of Harvey Mudd College this year that a second day was added to accommodate additional teams that had registered for the event.
Twenty-nine high school teams squared off for the scrimmage Feb. 15 and 16 inside the Linde Activities Center.
The scrimmage is the final test run before the FIRST Robotics Competition, an annual event where high school teams are given six weeks to design and build a robot to compete in a game.
"The scrimmage helps the teams prepare for the actual competition by simulating a real game so the teams can practice and get the feel for their bot and the game," said Daniel Lee '16, FIRST Mentors Club vice president and scrimmage organizer at Harvey Mudd. "It's just like a real sport like basketball; teams need practice. Furthermore, teams are gathered here to help each other and share ideas and opinions about each others' bots to further improve the teams' robots. The scrimmage has a very collaborative and supporting environment in which the goal is to make all the bots better."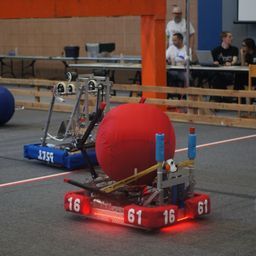 The design of the game in the FIRST Robotics Competition changes every year. This year, the game, called Aerial Assist, looked like a combination of football and soccer. Six robots divided between two teams faced off on a court with low and high goals at either end. Students operated the robots from behind a protective wall in the end zones.
The objective of this year's game was to have the robots score as many points as possible during a two-minute-30-second match by tossing balls through high and low goals. Teams earn points for goals and bonus points for goal assists, for balls that are shot over a truss that spanned the center of the playing field and for balls that are caught by a teammate after passing over the truss.
Harvey Mudd students served as referees, operated the score board, and handled the set-up and clean-up.
The FIRST Mentors Club organized the scrimmage with assistance from the Harvey Mudd College Office of Community Engagement and the Southern California Regional Robotics Forum, SMaRT Education and L.A. Robotics.
In addition to coordinating the scrimmage, the Harvey Mudd FIRST Mentors club mentors students in area high schools that are competing in the FIRST competition.
"We provide our input and opinions about their robots," Lee said. "We try not to get our hands into the project though and mostly act as advisors/consultants."
FIRST (For the Inspiration and Recognition of Science and Technology) is a national program designed to provide accessible and innovative programs to encourage and inspire high school students to pursue careers in science, technology, engineering and math while building self-confidence, knowledge and life skills.
FIRST information: http://www.usfirst.org
Three-minute video of this year's Aerial Assist game: http://www.usfirst.org/roboticsprograms/frc/2014-game