Lego Challenge Inspires Youthful Innovation
February 6, 2014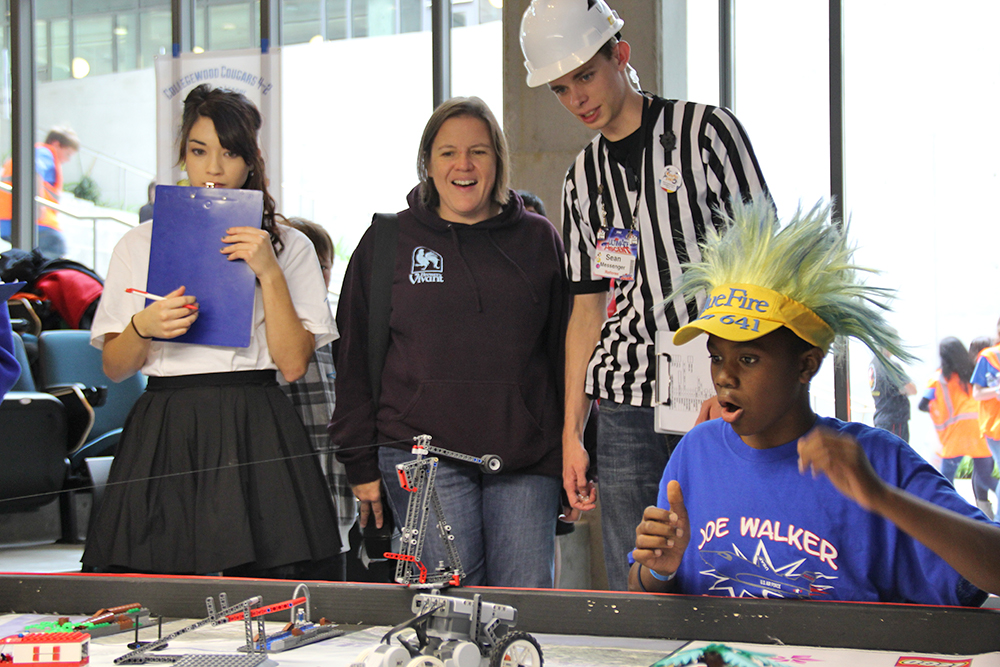 Dozens of pint-sized, autonomous robots performed rescue missions during fall as part of a FIRST Lego League Challenge at Harvey Mudd College, marking the first time the regional qualifying competition has been held on a college campus.
More than 230 elementary and middle-school students from throughout Southern California participated in the Nov. 23 event, which challenged student teams to build and program robots to tackle a variety of missions set in a natural disaster scenario.
"The tasks represented actions related to disasters. For example, you would try to group families together, give people water and remove precariously perched branches from above powerlines," said Sean Messenger '15, who served as the site host and coordinator for the event. "The kids came up with so many unique and innovative ideas. There wasn't a single approach that anyone tried to emulate. They were all special, and almost all effective."
Volunteers from Harvey Mudd's FIRST Mentors Club and student chapter of the Society of Women Engineers helped with the event, which was held in collaboration with SMaRT Education.
The FIRST Lego League introduces 9- to 14-year-old students to real-world engineering challenges by providing them the resources to build Lego-based robots to complete tasks on a thematic playing surface. Each year, the league releases a new challenge. This year's "Nature's Fury" challenge required teams to build and program a Lego Mindstorms robot as well as do research on what actions should be taken when natural disasters strike in places where people live and work.
The FLL challenge included three parts: identifying and solving the problems faced by communities after a natural disaster, the autonomous robot scenario tabletop competition and demonstration of the FLL core values such as teamwork and professionalism.
"The participants were just so excited to be on our campus. It was the first time they have had college students as judges and referees," said Gabriela Gamiz, director of community engagement for Harvey Mudd. "They were also able to connect with students who are attending Harvey Mudd on FIRST Robotics scholarships, which was very impactful."