Alumnus' Venture Seeks to Democratize Startup Education
January 14, 2014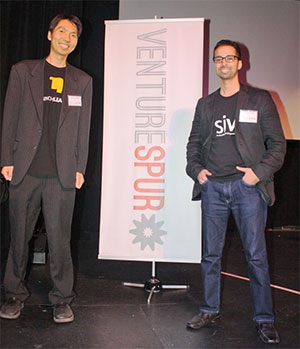 Serial entrepreneur Nicholas Seet '99 (pictured, left) received funding for a new venture, SIVI.com, that provides gamified e-learning for aspiring entrepreneurs.
SIVI Corporation, where Seet and Ashok Kamal (right) are CTO and CEO, respectively, recently graduated from VentureSpur's accelerator program and closed an investment round in excess of $340,000 from Oklahoma investors. Seet and Kamal have moved their company from New York City to Oklahoma City and will continue development and promotion of the LaunchLeader entrepreneurship education platform. LaunchLeader seeks "to become the global standard for qualifying entrepreneurs."
Seet and Kamal, co-founder of green social media marketing company Bennu, met at a Rice University Business Plan Competition, which Seet won in 2005. The duo created LaunchLeader so potential entrepreneurs can learn the fundamentals of entrepreneurship, can discover strengths and weaknesses through activity-based challenges that measure entrepreneurial attitude, awareness and aptitude, and can gain access to startup tools, mentor connections and opportunities for investment.
SIVI has launched an initial version of LaunchLeader and has announced partnerships with the Rice Alliance at Rice University, the SURGE Accelerator in Houston, The Dallas Entrepreneur Center and i2E in Oklahoma.
"SIVI started in the accelerator with an idea and two extraordinary, committed co-founders. We worked closely with them to hone the business model, find great mentors and help them make new connections in both Oklahoma and Texas," said Kraettli L. Epperson, Managing Director of VentureSpur. "SIVI made great use of our seed capital to survey the market, design and build an initial product, attract partners and test marketing channels. This is how seed capital is supposed to work."
After graduating from Harvey Mudd College with a degree in engineering and economics, Seet went on to attend UCLA Anderson School of Management, where he and classmates founded Auditude, a business that uses a proprietary algorithm to create a digital fingerprint of audio signals in order to monitor ads in real time. After receiving an MBA from UCLA, Seet became CEO and built Auditude to become the world's fifth largest online video ad platform. He sold the company to Adobe in 2010 for reportedly more than $100 million.
Since then, Seet founded Sivi.com, an educational platform for entrepreneurs and executives. Its product, LaunchLeader, is his latest venture.