New Drinkward Recital Hall, New Concert Series
October 11, 2013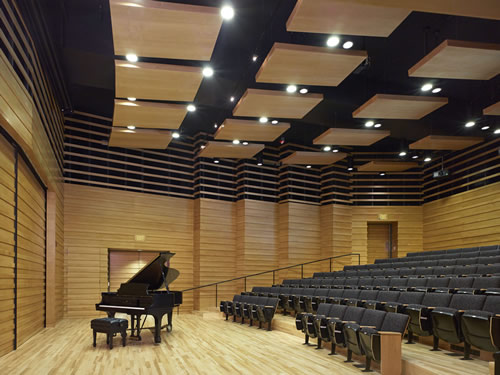 STEM and Stravinsky go hand in hand at Harvey Mudd College.
This fall marks the opening of a concert venue on the Harvey Mudd campus — the Wayne '73 and Julie Drinkward Recital Hall, which will provide a home to a new concert series. The Drinkwards' donation, a symbol of their commitment to the College, will give the gift of music to students and the surrounding Claremont, Calif. community. While musical performances at a college known for STEM education may seem a bit unusual, the relationship between science and art runs deep at Harvey Mudd.
"We were founded as a STEM college in the liberal arts tradition," President Maria Klawe said. "Our students understand the relationships between the humanities, social sciences, and the arts and the STEM disciplines. These connections are at the heart of how we educate our students."
The inaugural concert series, which runs Oct. 15 through May 8, 2014, will feature performances by students—including groups from the Harvey Mudd Jazz Improvisation class—and the College's Electronic Music Ensemble and American Gamelan. It will also include concerts by professional groups such as the New York early music ensemble ARTEK and piano duo Vicki Ray and Aron Kallay.
"Every year we admit bright and talented students, and an extraordinary number of them are very gifted musicians," said music Professor Bill Alves, chair of the Department of Humanities, Social Sciences and the Arts. "Now these students will have a wonderful facility to showcase their talent thanks to the Drinkwards, the Shanahans, President Klawe and everyone else who made this happen."
The Drinkward Recital Hall was named in recognition of Wayne A. Drinkward '73, chairman of the board of trustees, and his wife, Julie, who donated $2 million in support of the College's new R. Michael Shanahan Center for Teaching and Learning.
The recital hall is located on the bottom floor of the center, which was named in honor of Mike Shanahan, chairman emeritus of Capital Research and Management Company, in recognition of his and his wife, Mary's, incredible generosity, as well as for his leadership and dedication as a longtime friend and trustee of the College.
The inaugural, Oct. 15, concert will feature performances by student pianists Jacob Bandes-Storch '14, Brett Berger '15, Julie Chang '16, Estella Lai '14, Tiffany Lim '14, Benjamin Lowenstein '16, Tongjia Shi '15 and Andrew Turner '14. There will also be special performances by Scripps College faculty pianists Hao Huang and Gayle Blankenberg.
All events are free and open to the public. No tickets or reservations are required.