Harvey Mudd College Women "Think Big" at Grace Hopper Conference
September 24, 2013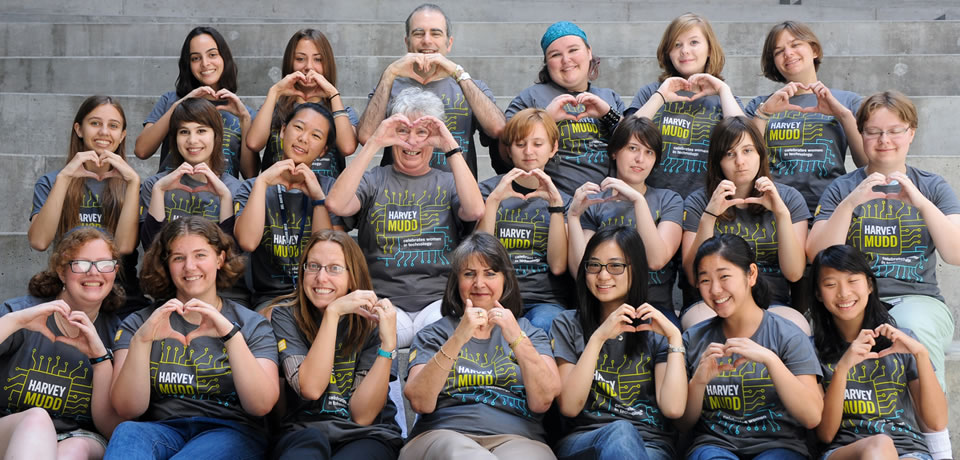 When an event is heralded as "the largest gathering of women technologists in the world," and features leaders from industry, academia and government, it's likely Harvey Mudd College will be there.
For this year's Grace Hopper Celebration of Women in Computing, slated for Oct. 2-5 in Minneapolis, Harvey Mudd will send 41 students, two faculty members, its director of career services and its president.
President Maria Klawe will serve as a keynote speaker along with Facebook COO and LeanIn.org founder Sheryl Sandberg, Cisco Senior Vice President Ana Pinczuk and DARPA Director Arati Prabhakar. Klawe will participate in a plenary session with Sandberg and Telle Whitney, president and CEO of the Anita Borg Institute, to discuss women and leadership, examples of women "Leaning In," practices that work and how women in computing can develop their own vision for the future.
Klawe will also serve as a panelist for a session entitled, "Why are we still geeks? Correcting media images of computer science." The panel will explore issues of gender and media, their effect on women entering computing and what can be done to improve media representation of women in the field.
"Very few young women go into computer science, physics and areas of engineering, because they think it's not interesting or they think they wouldn't be good at it, and their image of people in those fields is something they find unattractive," said Klawe. "The Grace Hopper conference opens their eyes to new images, role models and possibilities for their future that they may otherwise not have considered."
This year's conference embraces the theme, "Think Big. Drive Forward." Designed to encourage women to dream ambitiously, the four-day conference will feature more than 200 speakers and sessions on topics such as leadership, career guidance, wearable computing, medical technology and big data.
"It's important for young women who plan to pursue careers within fields traditionally perceived as masculine to have female role models. This makes GHC important for all of our female students and not just those who plan to major in computer science," said Colleen Lewis, assistant professor of computer science, who is coordinating this year's conference trip. "The Grace Hopper conference may do as much to build community among our students—traveling together and having a new experience together—as participating in the larger community of women in technology."
Lewis will present a talk, "Leveraging Service Learning to Develop K-12 CS Outreach," as part of the conference's academic track.
Harvey Mudd College began taking groups of female students to the Grace Hopper Celebration as part of a concerted effort to increase the number of female computer science majors. Twelve female students and three male students attended the inaugural trip in 2006.
In addition to boosting the number of students who attend the annual Grace Hopper Celebration, Harvey Mudd's Computer Science Department has tripled the percentage of female CS majors by reinventing its Introduction to CS course. By broadening its focus on programming to include many areas of intellectual depth, the new course is highly popular with men and women. Harvey Mudd now leads nationally in attracting women to computer science.