Four Faculty Members Hired
September 17, 2013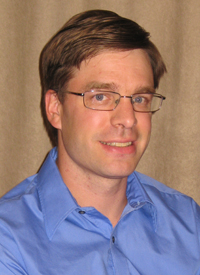 They are not the Avengers, yet the lineup sounds like a squad of science superheroes.
One traps atomic ions. Another decodes how insect communication—such as the honeybee's waggle dance—affects group behavior. The others explore topics such as graph theory and how the science of friction, wear and lubrication impacts everything from your morning shave to your aunt's knee replacement.
These are but a few of the talents possessed by Harvey Mudd College's newest faculty members:
Charles Doret joins the Department of Physics as an assistant professor. He earned his bachelor's degrees in physics and mathematics from Williams College in 2002, and his master's and doctoral degrees in physics from Harvard University in 2006 and 2009, respectively. He served most recently as a postdoctoral fellow in the Quantum Information Systems group at Georgia Tech Research Institute and was a teaching fellow and tutor while at Harvard. Doret is an experimental physicist who traps atomic ions for studying quantum information processing.
Gordon Krauss joins the Department of Engineering as the Fletcher Jones Professor of Engineering Design. He earned his bachelor's degree in astronomy and physics from Haverford College in 1990, and his master's degree in aerospace engineering and his PhD in mechanical engineering from Boston University in 1992 and 1999, respectively. Prior to joining the faculty at Harvey Mudd, Krauss served as lead instructor in the Mechanical Engineering Department of the University of Michigan in Ann Arbor. His industry experience includes serving as a staff scientist for Energizer, a technical specialist consultant for Ford Motor Company and as a research and development engineer for Tytronics Corporation. His research interests include the study of friction, wear and lubrication—in mechanical and biological systems—and design education.
Mohamed Omar joins the Department of Mathematics as an assistant professor. He earned his bachelor's and master's degrees in pure mathematics, combinatorics and optimization from the University of Waterloo in 2006 and 2007, respectively, and his PhD in mathematics from the University of California, Davis, in 2011. He comes to Harvey Mudd from a postdoctoral fellowship in the mathematics department at the California Institute of Technology. His research interests include algebraic methods in graph theory and combinatorial optimization.
Additionally, the Department of Biology hired Matina Donaldson-Matasci as an assistant professor (she will begin teaching in fall 2014). She earned her bachelor's degree in mathematics from Reed College in 1996 and her PhD in biology from the University of Washington in 2008. She is currently a postdoctoral fellow in the Social Insect Lab research group at the University of Arizona. Her research focuses on how communication strategies of social insects affect collective behaviors such as foraging and defense.