Grant Bolsters Summer Student Research
June 10, 2013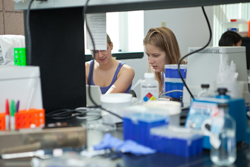 Undergraduate research at Harvey Mudd College has been bolstered by a $500,000 grant awarded by the Pasadena, Calif.-based Fletcher Jones Foundation.
The grant adds to endowed funding for student research and will allow more students to participate in the College's Summer Undergraduate Research Program.
"Research is an essential part of our curriculum," said HMC President Maria Klawe. "We want as many students as possible to participate in summer research, where they experience the excitement and challenge of working together with student peers and faculty mentors."
Half of the Fletcher Jones Foundation grant will be added to an endowed fund for student research in chemistry, completing a matching challenge grant from the John Stauffer Charitable Trust. The remainder of the grant forms the nucleus of a new fund for student research in other disciplines.
Fletcher Jones, co-founder of worldwide business technology firm Computer Sciences Corporation, established the Fletcher Jones Foundation in 1969. Following his untimely death in 1972, his successor trustees formulated a mission to support private, independent colleges and universities in California. More than 40 years later, the foundation continues to adhere closely to this mission.
HMC's Summer Undergraduate Research Program has grown in recent years to include up to 200 student researchers. Funding for summer research stipends comes from grants and endowed funds created to support student and faculty research. Endowed funds for research are especially valuable because they can fill the gaps between grant-funded projects and other areas of student interest. The Fletcher Jones Foundation grant represents a significant new source and will serve as a platform for continued support for the Summer Undergraduate Research Program.