HMC's ROI Ranked No. 1 by Payscale
May 10, 2013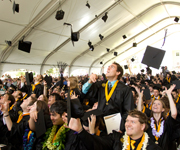 Harvey Mudd College has the highest return on investment of all U.S. colleges and universities, according to PayScale, an online salary information company.
In its 2013 College ROI report, which ranked HMC No. 1 in the nation, PayScale wrote, "For the second year in a row, this engineering powerhouse takes the top position on our list of best schools for ROI. …What is the secret of their success? Maybe it's their emphasis on a well-rounded education—they put a heavier emphasis on liberal arts studies than other engineering schools."
PayScale economists evaluated data from more than 1,000 institutions and compared costs to median alumni earnings over a 30-year period. They based the schools' net ROI on the difference between the median pay for those with a bachelor's degree who graduated from 1983 to 2012 and the median pay for those with a high school degree who graduated between 2012 and 1977. The costs of obtaining the college degree and lost wages from time spent in school are deducted.
HMC's 30-year ROI was calculated at $2,217,000. California Institute of Technology ranked second in the report, followed by Polytechnic Institute of New York University. Massachusetts Institute of Technology ranked fourth, and State University of New York Maritime College ranked fifth.
The report noted that the top five schools all have strong engineering programs.