NPR Spotlights HMC's Success Drawing Women to CS
May 2, 2013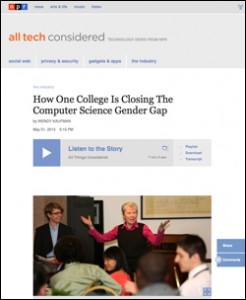 Harvey Mudd College's success in inspiring women to pursue computer science was featured May 1 on NPR's All Things Considered.
The NPR story highlights President Maria Klawe and faculty members' efforts to encourage women to enter the computer science field as well as the innovative steps the Computer Science Department took in creating an appealing, supportive learning environment that introduces women to computer science's many exciting applications.
In the segment, computer science majors Jess Hester '13 and Xanda Schofield '13 talk about their experiences in CS, and Luke Mastelli-Kelly '14 describes the benefits of having more women in his CS classes.  Colleen Lewis, assistant professor of computer science, is featured teaching class. Scripps College student Kate Finlay shares how HMC's redesigned introductory course, CS5, helped her discover the fun, joy and intellectual excitement of computer science.
The radio spot was part of the NPR series, "The Changing Lives of Women."
Computer Science Department Chair Ran Libeskind-Hadas describes HMC's innovative, female-friendly CS program for Open Colleges' recent article, "STEM still a Man's World? Not at Harvey Mudd College."
Libeskind-Hadas discusses a three-pronged approach: the introductory course that illustrates computer science as a creative, intellectually rich discipline; early research opportunities that allow students to apply their knowledge and build relationships with peers and mentors; and trips to the annual Grace Hopper Celebration of Women in Computing Conference, where first-years meet female role models working in computer science.