HMC to Celebrate 55th Commencement
April 22, 2013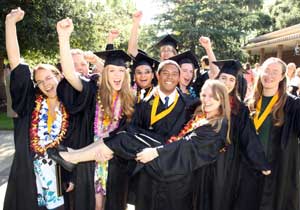 Harvey Mudd College will celebrate its 55th Commencement ceremony in the Mudd Quadrangle at 1:30 p.m. Sunday, May 19, 2013.
The College expects to confer bachelor of science degrees upon 190 students.
"We are so proud of the Class of 2013, and we look forward, with great anticipation, to their positive impact on our world," said HMC President Maria Klawe. "At Harvey Mudd College, they tackled hard problems, developed innovative skills and experienced the power inherent in teamwork. I know they can do great things, and I believe they will do great things."
The Class of 2013 played an integral role in shaping HMC's new Core curriculum. They were the first class to test aspects of the new curriculum, including piloting new engineering and mathematics courses. Some of this year's graduating seniors were among the first to take the College's innovative Writing 1 course, an introduction to academic writing taught by faculty from all disciplines.
HMC's 55th Commencement ceremony will be streamed live online beginning at 1 p.m. (PDT) Sunday, May 19.
Engineering major Alec Storrie-Lombardi will deliver the senior keynote address.
Nobel Laureate Carl Wieman, professor of physics and director of the Carl Wieman Science Education Initiative at the University of British Columbia, will deliver the commencement address. Wieman received the 2001 Nobel Prize in Physics for the creation of the first Bose–Einstein condensate, a new form of matter predicted in 1924 by Albert Einstein.
An outspoken advocate for improving science education, Wieman asserts a more scientifically informed population will be better prepared to deal with national and global problems. He aims to transform science education by encouraging the widespread use of effective, research-based teaching practices. He founded the Science Education Initiative at the University of Colorado and the Carl Wieman Science Education Initiative at the University of British Columbia. The two centers work to improve teaching in large, research-intensive science departments by creating and rigorously testing innovative teaching methods and technologies.