HMC Named a "Best Value College" by Princeton Review
February 6, 2013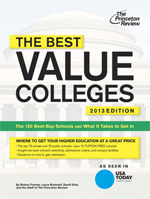 Harvey Mudd College is one of the nation's "Best Value Colleges" according to The Princeton Review's newly released book, "The Best Value Colleges: 2013 Edition."
The book profiles 75 public and 75 private colleges based on assessments covering academics, cost and financial aid.
"We commend these colleges," said Robert Franek, the guidebook's lead author, "for their stellar academics and their exceptional affordability as evidenced by their generous financial aid awards or their comparatively low sticker prices—or both."
In its profile of HMC, the book highlights the College's mission to educate future engineers, scientists and mathematicians, as well as the accessibility of professors and the collaborative spirit of the student body.
The Princeton Review identified the top undergraduate schools based upon surveys conducted at 650 schools during 2011-12. Along with academic and financial assessments, the educational services company factored in student feedback about the quality of campus life and interaction with professors.
Students described HMC as a place where "everyone is literate in every branch of science," "the honor code really means something" and "research opportunities are limitless." Campus culture, they said, revolved around a welcoming community where "upperclassmen look out for underclassmen, and students tend to bond together easily over difficult homework."
HMC students said they are "a really diverse group of personalities," who are "friendly, smart and talented…united by a brimming passion for science and a love of knowledge for its own sake."
The 2013 "Best Value Colleges" list can be viewed at USA Today, the Princeton Review's publishing partner for the Best Value Colleges project.
All of The Claremont Colleges undergraduate schools (HMC, Claremont McKenna, Pitzer, Pomona and Scripps) were selected for The Best Value Colleges: 2013 Edition guidebook.