Ahmanson Foundation Grant Supports New Academic Building
November 30, 2012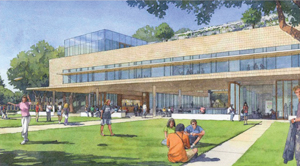 Harvey Mudd College has received a generous grant from the Ahmanson Foundation in support of HMC's new teaching and learning building.
Now under construction, the 70,000-square-foot academic building will feature technologically advanced classrooms, lecture halls, faculty offices and public spaces to support a wide range of pedagogies and learning styles.
"I am deeply grateful to the Ahmanson Foundation for its vote of confidence in our work at Harvey Mudd College," said President Maria Klawe. "The foundation's generous support represents an investment in our ability to provide current and future students the finest educational experience possible."
The teaching and learning building will be the first academic building in the nation and the first of any structure in California to use the patented BubbleDeck floor slab system. Unlike traditional slabs, BubbleDeck uses 35 percent less concrete, allows for flexible design and saves time, while maintaining the same strength and stability.
The slab technology is one of several "green" aspects of the new building, which is on track to receive LEED Gold certification, with a possibility of LEED Platinum in sight. Other green features include: an energy-efficient exterior façade, exterior circulation that maximizes natural ventilation for most of the interior spaces, day-lighting with sun shades and light shelves, drought-tolerant landscaping and rooftops prewired for the future installation of photovoltaic solar panels.
Scheduled to be completed in July 2013, the building will double the existing teaching and learning space, foster faculty and student interaction, nurture creativity with digital media and other technologies and serve as the new focal point of the campus.