James Bean '77 Appointed Harvey Mudd College Board of Trustees Chair
August 18, 2020
Higher education professional and mathematician James Bean '77 has been named chair of the Harvey Mudd College Board of Trustees.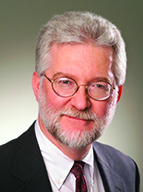 A member of the board since 2011, Bean succeeds engineering alumnus Wayne Drinkward '73 who served as chair from 2012 to 2020. Bean is the third alumnus to hold the board chair position; the late Malcolm Lewis '67 (engineering) was the first.
Bean has served in higher education since 1980 and has held academic leadership positions since 1993 at the University of Michigan, the University of Oregon, and now at Northeastern University, where he was provost and senior vice president for academic affairs. His academic career has spanned multiple disciplines, including business and engineering.
"Having been a student at Mudd, then a board member for nine years before becoming chair, I have a good sense of the Mudd culture, mission and values," says Bean. "Our culture, mission and values will be critical to Harvey Mudd problem-solving during the upcoming, difficult year."
Bean is a widely published scholar interested in genetic algorithms, integer programming and infinite horizon optimization who has received grants from federal institutions and industry.
He is past president of the Institute for Operations Research and the Management Sciences (INFORMS), a charter Fellow of the Institute and 2010 winner of the George E. Kimball Medal. He served on the regional board for U.S. Bank and was chair of the Arts and Business Alliance of Eugene. He has previously served as a member of the Corporation Visiting Committee for Engineering Systems at MIT and the Oregon Innovation Council.
Bean received a 2017 Outstanding Alumni Award, given by the HMC Alumni Association, for his commitment to improving society and for exemplifying the mission of Harvey Mudd College, where he received a B.S. in mathematics. His master's and PhD are from Stanford University in operations research.
The board of trustees is the ultimate governing body of Harvey Mudd. In its fiduciary role, the board holds title to the College's properties, and manages and allocates funds to fulfill the College's educational mission and provide for its future. The board is responsible for determining the broad policies under which Harvey Mudd operates, approving operating plans proposed by the president, granting degrees and for the appointment of academic officers and tenured faculty.