Students Recognized for CS Research
May 7, 2018
Two Harvey Mudd College students have been recognized by the Computing Research Association (CRA).
Daniel Johnson '18 was named a runner up and Jordan Haack '19 received an honorable mention in the 2018 Outstanding Undergraduate Researcher Award competition. The prestigious program recognizes undergraduates at North American universities who demonstrate outstanding potential in an area of computing research. Harvey Mudd College is the only non-PhD-granting institution to have more than one student among CRA's 2018 top selections.
According to the CRA, "This year's nominees were a very impressive group. A number of them were commended for making significant contributions to more than one research project, several were authors or coauthors on multiple papers, others have made presentations at major conferences, and some have produced software artifacts that were in widespread use. Many of nominees had been involved in successful summer research or internship programs, many had been teaching assistants, tutors, or mentors, and a number had significant involvement in community volunteer efforts."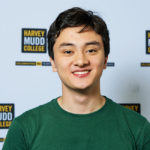 Runner up Daniel Johnson is completing the joint major in computer science and mathematics. His research is in the area of neural networks, where he has explored applications to graph transformation as well as music generation. His work has resulted in two single-authored papers in the 2017 International Conference on Learning Representations and in the 2017 International Conference on Evolutionary and Biologically Inspired Music and Art as well as two joint-authored papers. He has served as teaching assistant for several courses and is the project manager for a senior capstone project.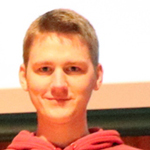 Honorable mention recipient Jordan Haack, also a computer science/math major, enjoys using algorithms to solve computational biology problems. He received the Best Student Paper award at the 2018 Asia-Pacific Bioinformatics Conference in Yokohama, Japan, for the paper "Computing the Diameter of the Space of Maximum Parsimony Reconciliations in the Duplication-Transfer-Loss Model" on which he was the first author. Along with Harvey Mudd computer science professors Yi-Chieh (Jessica) Wu and Ran Libeskind-Hadas and fellow research students Eli Zupke (Cal Poly Pomona) and Andrew Ramirez (Caltech), Haack demonstrated a fast, polynomial-time algorithm that helps to measure differences between two evolutionary trees and compute them efficiently. In 2017, Haack and two teammates placed an impressive 8th out of competitors from 568 institutions and scored in the top 200 in the William Lowell Putnam Mathematical Competition, considered one of the world's most prestigious university-level mathematics competitions.
Microsoft Research and Mitsubishi Electric Research Labs (MERL) sponsor the Outstanding Undergraduate Researcher Award program in alternate years, with MERL being this year's award sponsor.